One of India's Poorest States Just Created a Happiness Ministry
by
Madhya Pradesh to budget $567,000 for the new department

Improving life in poorer states crucial for Modi to keep power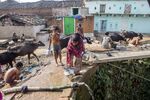 A central Indian state that ranks among the nation's least developed will set aside 38 million rupees ($567,000) to study how to make its people happy.
The cabinet in Madhya Pradesh -- home to India's famous Khajuraho temples and the national park where Rudyard Kipling set his Jungle Book -- on Friday approved setting up the department. It will conduct research and prepare plans to measure and enhance its citizens' wellbeing, according to the government's website.
Increasing growth and prosperity among India's poorest states -- which hold the bulk of the nation's population -- is crucial for Prime Minister Narendra Modi to retain power with elections due 2019. India ranks 118 of 156 in the World Happiness Report 2016, behind Pakistan, Serbia and Ethiopia.
"The largest regional drop was in South Asia, in which India has by far the largest population share," the report stated. Five input variables -- per capita income, life expectancy, freedom to make life choices, generosity, and freedom from corruption -- improved for India but were offset by a fall in social support.
With analysts questioning the credibility of statistics in the world's fastest-growing big economy, social indicators stand to be increasingly used to measure progress.
Madhya Pradesh, which calls itself the heart of India, was ranked among the bottom three in social indicators by a panel appointed by the federal government in 2013. Its per capita income is among the lowest for an Indian state. The government, which is run by Modi's Bharatiya Janata Party, also faces heightening scrutiny over a deadly scam where thousands of people received bureaucratic jobs and got into medical schools through systematic fraud related to entrance examinations.
| | | |
| --- | --- | --- |
| | Madhya Pradesh | India |
| GDP Growth (FY14) | 20.33% | 11.54% |
| Per Capita Income (FY14) | 26,853 | 39,904 |
| Sex Ratio (2011) | 930  | 940 |
| Literacy Rate (2011) | 70.63 | 74.04 |
| Maternal Mortality (per 100,000 live births in 2011-2013) | 221 | 167 |
| Households Using Banking Services (2011) | 46.6% | 58.7% |
| Development Expenditure (FY15) | 17.2% of GDP | 11.6% |
Before it's here, it's on the Bloomberg Terminal.
LEARN MORE