Molekule Air Purifier Uses UV Light to Help You Breathe Easier
Aiming to be more effective than HEPA filters.
By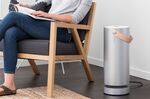 Innovator Yogi Goswami
Age 68
Engineering professor at the University of South Florida and co-founder of Molekule, a seven-person startup in San Francisco

Form and function
The Molekule air purifier shines UV light from LEDs onto a catalyst-infused filter to break down volatile organic compounds, bacteria, mold, and viruses. A regular purifier's HEPA filters just trap them.

Origin
Goswami wanted to develop an air purifier that's more effective than HEPA filters because his son Dilip—now CEO of Molekule—suffers from severe allergies and asthma.

Funding
Molekule has so far raised $3.75 million through the U.S. Environmental Protection Agency's Small Business Innovation Research Program and a venture capital seed round led by Crosslink Capital, CSC Upshot, and SoftTech VC.
Production
The purifier went on presale at molekule.com on May 24 for $499—a $300 discount from the expected retail price. It includes a year's worth of filters. The first devices will ship in early 2017.

1. Capture
A fan blows air across a prefilter to trap dust, pollen, and other large particles. Smaller, more harmful particles are trapped by a nanofilter.
2. Clean
UV light activates a proprietary catalyst on the nanofilter to react with moisture and oxygen in the air. The process, patented by Goswami, creates free radicals that oxidize and break down microscopic organic matter trapped by the filter. 

Next Steps
The company is planning on another funding round later this year. Goswami wants to target the commercial and transportation markets. Bernard Olson, a University of Minnesota research scientist who has tested Molekule, calls it a "significant breakthrough" that is "completely effective in destroying microorganisms and volatile organic compounds" and in preventing pathogens from colonizing filters.
Before it's here, it's on the Bloomberg Terminal.
LEARN MORE