Martin Shkreli Back in the Spotlight as Musical Theater Villain
by
Pharma bro goes to court while he is portrayed off-Broadway

Fictional Shkreli says if you can't pay you shouldn't get sick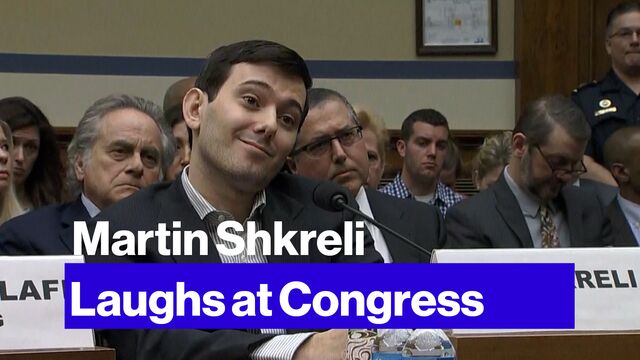 Characters like Martin Shkreli don't come along every day. The fellow who jacked up the price of a cancer drug from $13.50 to $750 and then got arrested on unrelated fraud charges, all the while flirting with women online, boasting of his own genius and earning wall-to-wall contempt, seems more like a satirist's villain than a live person.
He is both. On Thursday, Shkreli, wearing khaki trousers, a blue blazer and his infamous smirk, appeared in Brooklyn federal court for a scheduling conference. Watching from the public benches was an acting student on a mission -- to glean what he could from his first sighting of the 33-year-old ex-pharmaceutical executive he is to portray at a midtown theater next week.

"This was one of the weirdest things I've done in a while," said Patrick Swailes Caldwell, the 20-year-old actor who has spent hours watching videos of Shkreli and comes across more like Peter Pan than the guy often described as the most hated man in America. "I felt like the court jester." Swailes Caldwell accompanied a Bloomberg reporter to the hearing.
The musical, "Martin Shkreli's Game," part of the Midtown International Theater Festival, takes as its conceit yet another facet of the man that has outraged many -- his purchase for $2 million of the single copy of a Wu-Tang Clan album, keeping the work to himself (and claiming that he hasn't bothered to listen to it).
Bill Murray
The plot involves an effort by the rap group and actor Bill Murray to steal the album back. It will not endear potential jurors to Shkreli. One of its songs is "I'm Martin F-----g Shkreli and You Can All Go F--- Yourselves," in which Swailes Caldwell sings that he is "the richest damn Albanian to walk this earth" while gliding on a hoverboard.
The contempt for the former Turing Pharmaceuticals chief executive hardly ends there. An early scene has Swailes Caldwell barking into a phone his view of the terminally ill: "If they can't afford $750 a pill for Daraprim, they shouldn't have gotten cancer in the first place."
For a QuickTake on high drug prices, click here.
At a recent rehearsal, director Jono Hustis instructed actors on how to pronounce Shkreli: "Make it gross coming out of your mouth - like it's applesauce and you're swishing with it."
In court, Swailes Caldwell said Shkreli in the flesh was no different than Shkreli on his live stream. "Everything but the screen was the same," he said.
Shkreli's lawyer, Ben Brafman, declined to comment on the musical. On Twitter, Shkreli has weighed in favorably -- and critically.
"I've never acted or sang before but I believe @shkrelisgame will be the greatest musical ever made," he tweeted on June 9. "i've seen better funded high school musicals," he tweeted at the show's creators the next day. "sorry for your careers."
Shkreli, who lashes out at journalists and critics on Twitter, was arrested in December and accused of defrauding investors and using $11 million of assets of Retrophin Inc., another company he controlled, to pay them off. He's also accused of secretly hiding his control of unrestricted stock in the company, which prosecutors allege he used to help satisfy his debts.
Fantasy Contract
With art and life chasing one another, the musical's authors, Joel Esher and Lauren Gundrum, have faced their own accusation. Philadelphia-based writer Rob Wesley (@eastwes on Twitter) posted on Twitter a fantasy contract Shkreli signed for the album, "Once Upon a Time in Shaolin." Wesley highlighted a clause that said the album could be stolen with no legal repercussions but the "said heist or caper can only be undertaken by currently active members of the Wu-Tang Clan and/or actor Bill Murray." (Murray has a reputation for showing up in unexpected places as a kind of random event-bomber.)
The joke, retweeted 9,422 times with more than 8,100 likes, got the attention of Esher and Gundrum, classmates at the BMI Musical Theatre Workshop. They turned it into their play.
The use of his idea annoyed Wesley. He says he is unlikely to sue even though Shkreli offered in a tweet to help pay for such a suit. It wouldn't get very far. The writers didn't use the tweet verbatim and ideas are not subject to copyright.
Wesley said he learned about the musical a few weeks ago, when The New York Post wrote about it and subsequently saw the musical's crowd-funding indiegogo page, which has almost reached its $6,500 target. The playwrights offered to credit Wesley as the inspiration for the play. He rejected the offer. He also said he wouldn't feel right pitting the writers against the likes of Shkreli.
"I don't think it would be fair to put two lightweights like this in the cage with a trained mixed martial arts master like Mr. Shkreli," Wesley said.
Before it's here, it's on the Bloomberg Terminal.
LEARN MORE