Japan's Abe Meets China's Li as Maritime Tensions Flare
by
Meeting is the first in eight months between the two leaders

Japan, China at odds over South China Sea as well as islands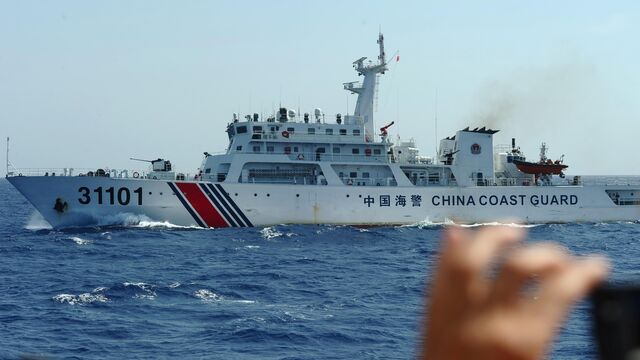 Japanese Prime Minister Shinzo Abe met Friday with Chinese Premier Li Keqiang on the sidelines of an international meeting in Mongolia as Asia's two largest economies try to repair a relationship fractured by maritime disputes.
QuickTake Territorial Disputes
Earlier this week, China warned Japan to stop intervening on the South China Sea issue after an international court rejected China's claims to more than 80 percent of the waters. Liu Zhenmin, a vice-minister for foreign affairs, accused a former Japanese president of the International Tribunal for the Law of the Sea of manipulating "the entire proceedings" behind the ruling. Japanese Foreign Minister Fumio Kishida responded Friday, saying there was no problem with the Japanese judge's involvement, Kyodo News reported.
"China sees the West as trying to obstruct its development," said Bonji Ohara, a research fellow at The Tokyo Foundation think tank and a former military attache in Beijing. "They see Japan as acting on behalf of the West to thwart China. So it's hard for China to seek better relations."
Li told Abe in Ulaanbaatar that Japan should "exercise caution in its own words and deeds, and stop hyping up and interfering" in the South China Sea issue, China's official Xinhua News Agency said.
Vietnam, Philippines
The encounter was one of several diplomatic exchanges as the region assesses the impact of the ruling. Abe and Vietnamese Prime Minister Nguyen Xuan Phuc also met in Ulaanbaatar and agreed to respect the arbitration court's decision. Meanwhile, in Beijing, foreign ministry spokesman Lu Kang welcomed Philippine President Rodrigo Duterte's offer for two-way talks on their South China Sea disputes.
Eight months since the last meeting between Abe and Li, a failure to ease animosities not only threatens Japan's biggest trading relationship, but increases the risk of a military clash over rival claims to uninhabited islands in the East China Sea. Japanese fighter jets scrambled against Chinese jets nearing its airspace a record 199 times in the April-June period, an increase of 85 on the same period last year.
Diplomatic Coup
For Abe, it could also mean that what seemed like a diplomatic coup 18 months ago has slipped through his fingers. Then, the two countries issued a statement acknowledging differences of opinion over ownership of the East China Sea islands before a summit between Abe and President Xi Jinping.
After the Hague tribunal issued its ruling on the South China Sea on Tuesday, Japan's Foreign Minister Fumio Kishida angered China by releasing a statement underscoring the tribunal's verdict as "final and legally binding" on the parties to the dispute.
"Japan strongly expects that the parties' compliance with this award will eventually lead to the peaceful settlement of disputes in the South China Sea," Kishida said, adding that Japan has "consistently advocated the importance of the rule of law and the use of peaceful means, not the use of force or coercion" in settling maritime disputes.
For a QuickTake explainer on China's maritime push, click here.
While China's main focus may be on its loss of face in The Hague, sparring over the disputed islands in the East China Sea has also intensified, with China alleging that two Japanese fighter aircraft had "provoked" Chinese fighters in June as they patrolled China's self-declared air defense identification zone -- an allegation Japan has denied.
Also in June, a Chinese warship was spotted in the contiguous zone outside Japanese-administered waters around the disputed islands. While Chinese coastguard ships frequently sail into what Japan sees as its territorial waters, no military vessel had previously been seen there.
Failure to Communicate
One reason the improvement in ties didn't take root is that the Abe administration doesn't have anyone who can communicate effectively with the Xi administration, said Noriyuki Kawamura, a professor at Nagoya University of Foreign Studies. As a result, no one has been able to fathom the reasons for its behavior, he said, adding that Japan's new ambassador to Beijing would also need time to develop relations.
The next opportunity for a top-level meeting will likely be the Group of 20 talks to be hosted by China in September. Ohara said the meeting would be an important not only for bilateral ties between China and Japan.
"I think China will use this as a platform to express its dissatisfaction with what it sees as obstruction of its development by the West and Japan," Ohara said. "China is saying it won't play by the West's rules," he added. "To get along with China in international society, we have to play the same game as them. That means we have to have the same rules and we need to start working those out as soon as possible."
Before it's here, it's on the Bloomberg Terminal.
LEARN MORE