Inside the Trump Campaign's Strategy to Sell Mike Pence
The campaign hopes to sidestep questions about disagreements—most notably on Trump's call to temporarily ban Muslim immigration.
By and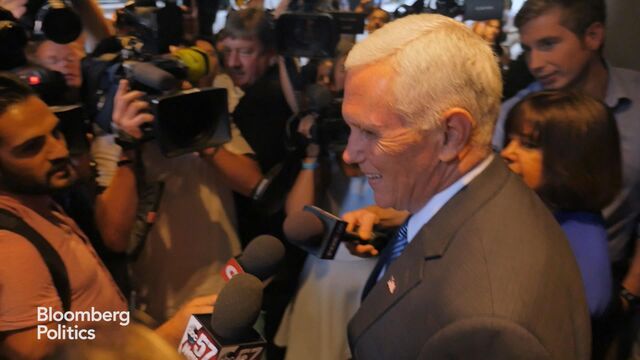 Internal documents show Donald Trump's campaign aides are planning to pitch his new running mate as the steady hand who can help unify the party. But they also hope to sidestep questions about disagreements between them—most notably on Trump's call to temporarily ban Muslim immigration—rather than address them head on.
One of the memos circulated to campaign staff and surrogates Friday suggests talking points for getting around the problem of Indiana Governor Mike Pence's past objections to Trump's Muslim ban proposal, which has evolved in recent months.
"Rather than debate semantics, let's talk about the policy," the memo obtained by Bloomberg Politics said before launching into a summary of Trump's position and criticisms of the position held by presumptive Democratic nominee Hillary Clinton.
There was no mention of how Pence's position may have shifted since December, when he tweeted that Trump's proposed temporary Muslim ban was "offensive and unconstitutional."
"Mr. Trump has said that he would temporarily suspend immigration from countries linked to Islamic terrorism, and which have a track record of sending us large number of immigrants later charged with terrorism," the memo says, ignoring any differences with Pence.
The next section of the talking points focused on the attack in Nice, France, which led Trump to issue a new round of calls to temporarily ban Muslims from immigrating to the United States.
Another set of talking points obtained by Bloomberg offer suggestions for how to sell Pence as a trusted leader with a history of job creation, commitment to his faith and conservative accomplishments.
"His successful record of job creation and conservative governance make him the perfect person to unite the Republican party and defeat Hillary Clinton," said a memo circulated by senior Trump campaign aides Hope Hicks, Rick Gates, Bryan Lanza and Jason Miller.
Asked to comment on the memos, Miller said: "Governor Pence has an outstanding record of job creation and lowering taxes, and we're going to share it with everybody we can. There's a reason he was picked to be Mr. Trump's running mate."
Trump staffers also held a conference call Friday afternoon to sort through details to present the duo for the first time, trying to pump freshness into what wound up being an anti-climactic unveiling after yesterday's initial postponement, according to a person familiar with the call.
Trump wanted to keep his vice presidential selection a secret until the Republican National Convention, he told Bloomberg Politics in an interview last month. "I'd like to save it, give it the old fashioned way, right? You go to the convention, you announce, and in many cases you announce and they don't even know until you announce," he said.
But Pence's Friday deadline for dropping out of his re-election bid in Indiana made it impossible for Trump to pick the governor and then wait until the convention. The campaign decided to formally announce the ticket at a press conference in New York at 11 a.m. Friday morning–an hour before the noon cut-off in Indiana for Pence to withdraw from the governor's race there.
After the attack in France, campaign chairman Paul Manafort said Trump had "an emotional response" that led him to delay the press conference for 24 hours. But the formal event would be less of a surprising reveal after the media began reporting that Pence was the choice according to a slew of anonymous insiders. By Friday morning, Trump hit "post" on a matter-of-fact tweet–tame by Trump standards–confirming that yes, he'd picked Pence.
Of the five sections in the Pence talking points memo, the first is on his faith—indicating that they're hoping the governor can help motivate evangelical voters, particularly those who supported Trump's former rival Ted Cruz.
"He has fought against activist judges who have sought to remove God from the Pledge of Allegiance," the memo says.
It also highlights Pence's economic record, saying he has received 100 percent ratings from conservative groups such as the Americans For Tax Reform, National Right to Life Committee and the Federation of American Immigration Reform, as well as a 99 percent rating from the Club For Growth and an 'A' rating from the National Rifle Association.