Icahn Claims Victory in Herbalife's Battle of Billionaires
by
Investor blasts Herbalife short sellers, including Bill Ackman

Nutrition company may consider buying competitors, Icahn says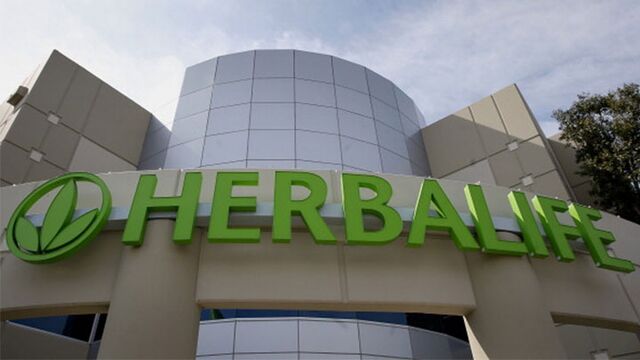 Billionaire Carl Icahn claimed victory after Herbalife Ltd. settled with federal regulators and may now double down on his investment in the controversial nutrition company following a three-year battle with short seller Bill Ackman.
The Federal Trade Commission didn't find that Herbalife is a pyramid scheme, a decision that validates Icahn's own research into the company, he said in a statement on Friday. The Herbalife board also agreed to increase Icahn's ownership limit to 35 percent from 25 percent, letting the investor take a more active role in steering the company's strategy -- and potentially push it toward acquisitions. He already was Herbalife's biggest shareholder, with an 18 percent stake.
"Unlike many of those that 'shorted' Herbalife, we did not rely on one or two research papers prepared by non-experts," Icahn, 80, said in the statement. "While Bill Ackman and I are on friendly terms, we have agreed to disagree (vehemently) on this subject. Simply stated, the shorts have been completely wrong on Herbalife."
Icahn's investment in Herbalife, announced in February 2013, set up a public showdown with fellow billionaire Ackman. Icahn quickly became a high-profile advocate for Herbalife and installed five board members, putting his inner circle behind the nutrition company. Ackman, who runs Pershing Square Capital Management, had disclosed a $1 billion bet against Herbalife in December 2012, saying it was an illegal operation that should be shut down.
Video Series
Ackman, 50, hired his own researchers to dig into Herbalife's dealings and released a series of videos and presentations that he said showed the company was crooked. His crusade continued into this week: On Thursday, Pershing Square released its 18th video in a series criticizing the company. But the FTC resolved its investigation into Herbalife without striking a death blow. Under terms of the settlement, the company will have to pay about $200 million and change some business practices.
In its response to the decision, Pershing Square cited the FTC's findings that most Herbalife participants earn little to no profit or lose money. The firm also said the changes to its operations will hamper the company and noted that the agency didn't specifically say one way or the other whether Herbalife was a pyramid scheme.
"While it appears that Herbalife negotiated away the words 'pyramid scheme' from the settlement agreement, the FTC's findings are clear," the firm said in a statement. "We expect that once Herbalife's business restructuring is fully implemented, these fundamental structural changes will cause the pyramid to collapse."
'Roll-Ups' Ahead?
Even so, the FTC decision bring a measure of stability to a company laboring under a cloud for years. It also could set the stage for Herbalife to acquire rival companies, Icahn said. The stock soared as much as 22 percent to $72.22 on Friday.
"It is time to consider a range of strategic opportunities, including potential roll-ups involving competitors, as well as other strategic transactions," he said.
Herbalife relies on an army of independent distributors to sell its weight-loss shakes and supplements -- an arrangement that Ackman said led to abuse. Icahn disputed that view on Friday, comparing Herbalife to his summer job selling Fuller Brush products door-to-door as a teen.
"I ended up earning more during the summer than my father," he said. "Many of my friends who also started with me but were not willing to work as hard failed as salesmen. But no one would believe their failure made Fuller Brush a 'bad' company."
Before it's here, it's on the Bloomberg Terminal.
LEARN MORE