French Killer Not on Terror List, Used Islamic State Tactics
By , , and
Bastille Day attack in Nice on Riviera kills 84, injures 202

Tunisian living in France known for theft, domestic violence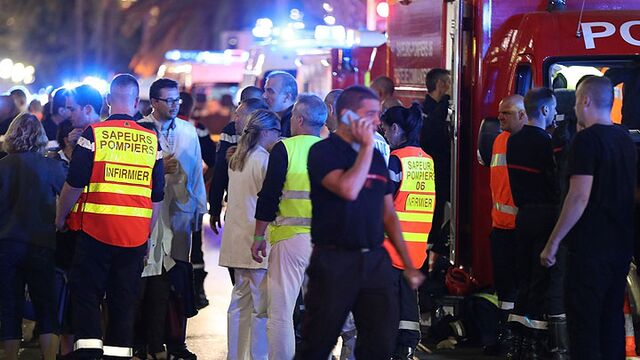 The man who killed 84 people and injured 202 during a Bastille Day celebration in Nice Thursday was known to law enforcement for petty theft and domestic violence but wasn't on any list of people known to be radicalized, France's chief anti-terror prosecutor said.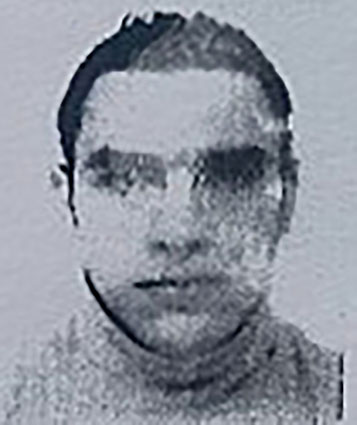 Mohamed Lahouaej-Bouhlel, a Tunisian living in France, had rented the 19-ton refrigerated truck that he used to drive along the city's beach promenade, plowing into celebratory crowds for 2.3 kilometers (1.4 miles), Paris anti-terrorism prosecutor Francois Molins told reporters. Ten children or teenagers were among the dead, he said, adding that the driver had used a 7.65mm automatic pistol to fire on police before they shot him.
"The attack has not been claimed" by any group, Molins said. "But this sort of action is the sort of action advocated by terrorist groups on online media." The investigation will include determining whether Lahouaej-Bouhlel had links with terrorist organizations, he said.
Prime Minister Manuel Valls said the attacker was linked to jihadism "one way or another." Additional terror attacks and victims are likely, he said on France 2 Television Friday.
For a QuickTake explainer on Jihad, click here
The rampage forced President Francois Hollande to call up military reserves and extend the state of emergency that he had intended to let lapse. "Horror again has struck France," Hollande said in the hours after the attack.

The Nice assault is the third major terrorist attack in France since the January 2015 shootings at the Charlie Hebdo satirical newspaper and a kosher store near Paris. In November, organized teams killed 130 people in Paris, in cafes and at the Bataclan concert hall. Four other attacks of smaller scale in the last 18 months bring the tally close to 240 dead with hundreds injured.
Lone Wolves
From the lone wolf attack in Orlando to this latest incident, Europe and the U.S. have been engulfed by waves of violence carried out by Islamic State sympathizers at a time when there is a populist backlash against immigrants and the political establishment, be it bureaucrats in the European Union or lawmakers in Washington.
"This is making Europe so much weaker at a time when Europe doesn't know what it stands for," said Ian Bremmer, head of consulting firm Eurasia Group. "You're going to see more anger at immigration, you have to do more than express your sympathy when the problem is that there is no leadership in dealing with the problems."
Most of the assailants in the prior French attacks, and in the killings in Brussels that left 32 dead in March, were of immigrant descent and of the Muslim faith. French TV stations cited Lahouaej-Bouhlel's neighbors as saying he had three children, was going through a divorce and wasn't particularly religious.
For a Q&A explaining why France has been targeted by terrorists, click here
Hollande said in an early morning address that the state of emergency, which Thursday he said he'd let expire July 26, would be extended, and that 10,000 military personnel would continue to guard sensitive sites. He had planned to reduce that number to 7,000. The French president, who will hold a cabinet meeting Saturday after a defense council session, flew to Nice with Valls.
"We are faced with a fight that will last a long time because we have an enemy that will continue to attack all people and all countries that hold freedom as an essential value," Hollande said in Nice. France declared a three-day national period of mourning starting July 16.



Hollande's response to terrorism has in the past earned him support across the political spectrum and two discernible improvements in popularity. Interior Minister Bernard Cazeneuve said on TF1 Television Friday that 16 planned terror attacks had been deterred in the past 18 months. But the government's failure to prevent the most recent killings may hurt Hollande's ambition to stay in power.

With the first round of the presidential election barely nine months away, the opposition unleashed a round of criticism of the president after keeping largely silent during the previous two attacks. Former prime minister Alain Juppe of The Republicans and a candidate for the presidency, said on RTL Radio that "'If all measures had been taken this drama wouldn't have happened." Marine Le Pen of the anti-immigrant National Front, a declared candidate, also said the government hadn't done enough.
"The tragic paradox is that the subject of the Nice attack was the people celebrating liberty, equality and fraternity," said European Union President Donald Tusk on Twitter.