Four Charts to Show the Best Week for Indian Bonds Since March
by
Investors speculating new central bank governor will be dovish

Rise in foreign holdings, pickup in monsoon rains add to gains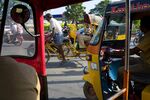 Indian bonds capped their best week since March as foreign funds piled into local debt amid mounting speculation the nation's yet-to-be-named new central banker will be more aggressive in cutting interest rates.
The yield on sovereign notes due January 2026 slipped 11 basis points from July 8, the most since the five days ended March 4, to 7.27 percent in Mumbai, prices from the Reserve Bank of India's trading system show. That's the lowest close for a benchmark 10-year security since June 2013. The rupee climbed 0.5 percent this week to 67.07 per dollar.
Overseas holdings of rupee-denominated government and corporate debt climbed 50 billion rupees ($746 million) in the last four days, set for the biggest weekly jump since mid-October, National Securities Depository Ltd. data show. A pickup in monsoon rains is improving the outlook for inflation and interest rates just as official figures on Tuesday showed consumer prices rose 5.77 percent in June from a year earlier, less than the 5.79 percent median estimate in a Bloomberg survey. They increased 5.76 percent in May.

To read more about possible successors to Governor Raghuram Rajan, click here.
As expectations for monetary easing rose, one-year interest-rate swaps slid to 6.43 percent on Wednesday, the lowest level since September 2010, data compiled by Bloomberg show. The central bank's benchmark repurchase rate is at a five-year low of 6.50 percent since it was last cut in April.
"The new governor may be more tolerant of inflation," said Amit Agrawal, Bengaluru-based strategist at Societe Generale SA. "We expect the RBI to ease rates by 25 basis points in the fourth quarter."

Swaps are falling for a second month as the RBI's open-market debt purchases and other liquidity measures continue to boost availability of funds in the banking system. The improving cash supply drove a benchmark interbank rate to a six-year low this week and has caused shorter-maturity bonds to rally more.
To read more about the impact of RBI's cash infusions, click here.

The monsoon rains have covered the entire country, the weather department said earlier this week. Prime Minister Narendra Modi's government is counting on the June-September seasonal showers to help sustain growth in Asia's third-largest economy and contain food costs, which have a significant bearing on inflation. The wet season affects both summer and winter crop sowing in India, and waters more than half of all farmland.

Before it's here, it's on the Bloomberg Terminal.
LEARN MORE