Citigroup Lowers Forecast for Margin Growth on Rate Expectations
by
Shares decline as investors question long-term growth

Earnings of $1.24 beat the $1.10 estimate of 27 analysts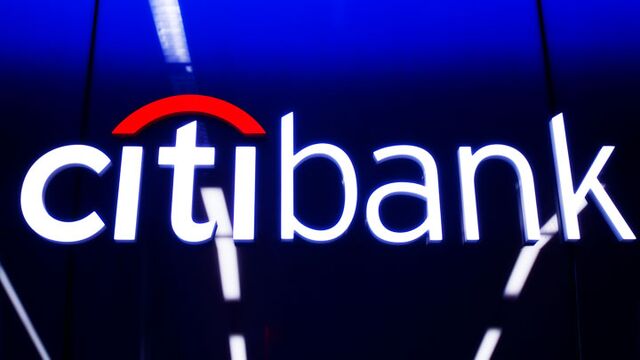 Citigroup Inc. reduced its forecast for net interest margin, the difference between what it makes on loans and pays for funds, on expectations interest rates will remain low for a longer stretch than bank executives previously thought.
The margin will be about 2.90 percent in the second half of 2016, down from a previous forecast of 2.95 percent, Chief Financial Officer John Gerspach said Friday on a conference call with analysts. The figure was 2.86 percent in the second quarter. New York-based Citigroup dropped 0.5 percent to $44.22 at 2:17 p.m., extending this year's decline to almost 15 percent.
"This is lower than our prior outlook of around 295 basis points for the remainder of the year, reflecting somewhat lower loan yields as well as the absence of a previously assumed rate increase in the U.S.," Gerspach said.
The U.K. voted to cut its ties with the European Union last month, a decision that stoked volatility in financial markets and derailed expectations that Federal Reserve officials would continue raising U.S. interest rates after bumping its benchmark rate higher in December.
Profit Drops
Citigroup's second-quarter net income dropped to $4 billion, or $1.24 a share, from $4.85 billion, or $1.51, a year earlier, the company said Friday in a statement. Chief Executive Officer Michael Corbat, 56, had predicted a roughly $3.5 billion quarterly profit in early June. Twenty-seven analysts surveyed by Bloomberg projected earnings-per-share of $1.10 -- in line with his forecast.
"We see little room for positive estimate revisions given a high consensus earnings bar" for the second half of 2016 and next year, Steven Chubak, a Nomura Holdings Inc. analyst, wrote in a note.
Revenue excluding accounting adjustments fell 8 percent to $17.5 billion, while expenses declined 5 percent to $10.4 billion. Both matched analysts' estimates.
Credit costs fell 15 percent to $1.41 billion, as fewer loans defaulted and the firm reversed reserves in a unit holding unwanted assets. The resulting expenses were less than the $2 billion estimate of Jefferies Group's Ken Usdin. Provisions at Wells Fargo & Co. more than tripled in the second quarter, contributing to a 2.8 percent drop in second-quarter earnings, the San Francisco-based bank said Friday.
Trading Results
Citigroup's fixed-income trading revenue climbed 14 percent to $3.47 billion, beating the $3.14 billion estimate of six analysts surveyed by Bloomberg. The 21 percent jump in equity-trading revenue to $788 million surpassed their $707 million estimate.
Corbat's earnings forecast at an investor conference on June 2 also proved conservative for Citigroup's investment bank. He predicted total trading and investment-banking revenue would be "up slightly" compared with the first quarter. It rose 17 percent from that period. From a year earlier, investment-banking revenue slipped 6 percent to $1.22 billion, beating analysts' estimates for $972 million.
The bank, which gets more revenue from outside its home market than any of its U.S. peers, felt some pain from the dollar's strength during the period. Net income from consumer banking fell 18 percent to $1.32 billion, as revenue from units in Latin America and Asia declined.
Susan Katzke, an analyst at Credit Suisse Group AG, cited a "lack of reported global consumer revenue momentum" as a mark against the results.
Latin America
The company is in the process of selling retail-banking and credit-card operations in Brazil, Argentina and Colombia. It retreated further this week, saying it decided to stop servicing some accounts and cease correspondent banking in Venezuela.
Citigroup won the bidding last year to become the lender behind Costco Wholesale Corp.'s credit cards, succeeding American Express Co. The handover wasn't without bumps. As Citigroup issued new cards and moved accounts to its system in June, shoppers took to the retailer's Facebook page with hundreds of complaints about the bank's customer service, saying they endured lengthy wait times and had trouble activating accounts.
Citi Holdings, the portfolio of unwanted assets tagged for sale, was profitable for the eighth consecutive quarter, booking a $93 million profit. It's become such a diminished part of the firm's results that Citigroup will stop separately breaking them out later this year.
Before it's here, it's on the Bloomberg Terminal.
LEARN MORE