Christie Zapped by Quadruple Whammy With Ally's Plea, Trump Snub
By
Bridge scandal resurfaces just as Trump vetting running mates

Storm rains, pours and knocks out power to Christie's home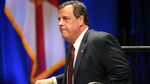 Chris Christie has spent more than 56,000 hours as New Jersey's governor. The last 24 have been among the toughest.
On Thursday, a confidant of the second-term Republican pleaded guilty to accepting bribes, and then a former member of the governor's cabinet was charged with conspiracy. That night, storms knocked down trees in front of Christie's Mendham home, leaving his family without power.
The biggest wallop came Friday morning, when Christie was passed over as Donald Trump's running mate. With his hopes dashed, but the lights back on, the governor returns to his $175,000-a-year day job facing a home-state electorate that has soured on him and still with 18 months left in office. His approval is at a record low after spending more than half of 2015 out of state campaigning for his own White House bid and then, after suspending his campaign, endorsing Trump as the Republican nominee.
"He's been loyal to Donald Trump from the beginning, but at a high cost to his reputation," said Julian Zelizer, a professor of history and public affairs at Princeton University. "He put himself out there and he might end up with nothing to show for it."
Christie, 53, faces a slew of unfinished business at home -- growing pension costs, unfunded transportation projects and lagging job growth. He also remains engulfed by a two-year-old traffic-jam scandal.
Just a few years ago, he was the toast of the Republican Party and late-night television talk shows. More recently, he was lampooned on social media for staring vacantly as he stood behind Trump, 70, during his nationally televised Super Tuesday victory speech.
Record Low
As Christie set his career sights beyond New Jersey, first as president and then as a Trump endorser, his onetime biggest boosters reacted with disgust.
His approval rating among registered voters hit its high of 74 percent in February 2013 for his response to Hurricane Sandy. It plunged to a low of 29 percent in May, three months after he left the presidential race, according to polling by Hamden, Connecticut-based Quinnipiac University. Sixty-five percent said they were dissatisfied with how things were going in New Jersey, and 63 percent said the economy was not so good or poor.
"Christie for president was a flop and, as far as the local folks are concerned, so is Christie for vice president," Maurice Carroll, the poll's assistant director, said in a news release on May 18.
Pleas Spurned
In 2011, Christie was emerging as the Republican Party's answer to the populist social and fiscal values that gave rise to Congress' Tea Party faction. Not yet two years into his term, after a speech about the U.S. role in worldwide affairs at the Ronald Reagan Presidential Library in Simi Valley, California, audience members begged him to run for president. Instead, for the 2012 campaign he endorsed Mitt Romney, who would be defeated by incumbent Democrat Barack Obama.
Christie saw much of his support obliterated in January 2014 by a scandal over politically motivated lane closings at the George Washington Bridge. Allies of the governor created traffic jams at the world's busiest bridge to punish a local Democratic mayor who'd refused to endorse Christie's re-election.
Two of those allies face trial in September. The third pleaded guilty to his role in the plot and is cooperating with prosecutors.
Chairman's Flight
The investigation led prosecutors to evidence that David Samson, a close ally of Christie, pressured United Airlines to fly a money-losing route convenient to his family's weekend home in South Carolina. 
Samson, a Christie appointee who was chairman of the Port Authority of New York and New Jersey from 2011 to 2014, pleaded guilty Thursday to a federal charge of soliciting a bribe. Christie's onetime transportation commissioner, Jamie Fox, was charged with conspiring to commit bribery for his suspected role in the same scheme when he was a United Continental Holdings Inc. lobbyist.
Samson was a member of Christie's inner circle and led the governor's transition team in 2009. Now, Christie, a former U.S. prosecutor, is Trump's transition chief.
Christie hasn't been charged in either the lane closings or the flight scandal, and separate investigations by lawmakers and federal prosecutors haven't linked him to either.
Tom Kean, a Republican who spent two terms as New Jersey governor in the 1980s, said there may be a silver lining in Trump's decision to go with Indiana Governor Mike Pence as his running mate. Kean, whom Christie cites as a mentor and whose campaign he volunteered on before he could even vote, said Christie's temperament would be more suited for positions including chief of staff and attorney general.
He urged Christie to concentrate on solving entrenched fiscal and transportation challenges.
"Chris Christie is very lucky -- the vice presidency is a terrible job," Kean said by telephone. "He likes to speak his mind, and the one thing the vice president can never do is say exactly what he means. He has to run around parroting the president."
Before it's here, it's on the Bloomberg Terminal.
LEARN MORE