China Growth Steadies on Consumer, Dimming Stimulus Expectations
Bloomberg News
Retail sales and factory output beat estimates in June

Nomura raises 2016 GDP growth forecast to 6.5% from 6%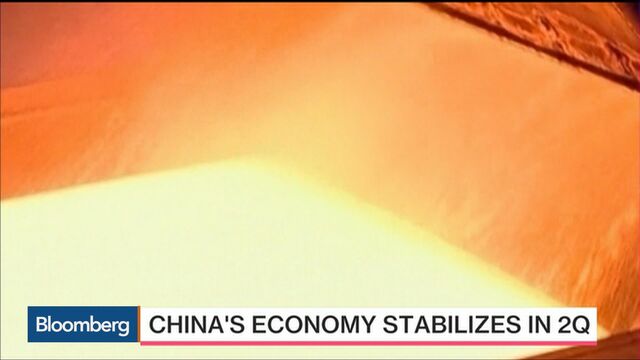 China's growth stabilized as lending and consumer spending picked up, suggesting the economy is responding to stepped up policy support.
Gross domestic product rose 6.7 percent in the second quarter from a year earlier, compared with 6.6 percent seen by economists Bloomberg surveyed and in line with the government's growth target of at least 6.5 percent for the full year. Industrial output and retail data for June beat estimates, investment slowed, and a report from the central bank showed the broadest measure of new credit beat all 29 analyst forecasts.

A credit surge and housing recovery this year have propped up growth, while raising questions about the sustainability of the debt-fueled expansion. Friday's data blast suggests the People's Bank of China doesn't need to boost support for the world's second-largest economy after holding the benchmark interest rate at a record low since October and cutting the required-reserve ratio for big banks in February.
"The Chinese economy remains stable," Larry Hu, head of China economics at Macquarie Securities Ltd. in Hong Kong, wrote in a note. "It makes no sense to ease policy at this moment, given the current growth momentum."
Bloomberg's monthly GDP tracker increased for a second month, indicating a 7.13 percent pace of expansion in June.
Nomura Holdings Inc. raised its full-year growth estimate to 6.5 percent from 6 percent, citing the stronger-than-expected second quarter. Chief China economist Zhao Yang also reduced his forecast for the number of reserve-ratio cuts this year to two from three while maintaining his estimate the PBOC will lower the main rate by 25 basis points.
The Shanghai Composite Index closed near a three-month high and posted a third straight weekly advance. The yuan advanced.
Consumption contributed 73.4 percent to economic growth in the first half, up from about 60 percent a year earlier, the statistics authority said.
"Consumer spending has proven more resilient," said Frederic Neumann, co-head of Asian economic research at HSBC Holdings Plc in Hong Kong. "China is also weathering the external drag better than feared, with generous stimulus oiling the wheels of the domestic economy."
Factory Output

---

Here's a snapshot of the forces reshaping this continent-sized country
---
June readings show the economy gained momentum as the quarter went on.
Industrial production climbed 6.2 percent in June from a year earlier, compared to 6 percent in May and economists' estimates for 5.9 percent. 
Retail sales rose 10.6 percent, compared to the median estimate of 9.9 percent.
Fixed-asset investment slowed to 9 percent in the January-June period versus economists' expectation for 9.4 percent.
Aggregate financing was 1.63 trillion yuan ($244 billion) in June, compared with an estimate for 1.1 trillion yuan in a Bloomberg survey.

China's Communist Party leaders plan to double the size of the economy by 2020 from 2010, and maintain a minimum average growth level of 6.5 percent through 2020. To achieve those targets, they're seeking to stoke new growth drivers based on innovation and services, as they root out overcapacity in traditional sectors like coal and steel.
But with private investment growth stalling, the state is having to fall back on its old playbook of revving up investment.

Meantime, the pace of property development investment eased after policy makers sought to rein in price growth in the nation's biggest cities, while recent floods pose headwinds.
'Complex and Grim'
The economic environment remains "complex and grim," a spokesman for the National Bureau of Statistics said at a briefing after the data release. Bright spots include a steady labor market, with the survey-based jobless rate for big cities stable at about 5.2 percent, and faster growth in the technology industry, he said, adding that easing factory-gate deflation has helped company profits.
The GDP deflator -- the difference between the headline growth rate, adjusted for inflation, and unadjusted nominal growth -- rose, adding to evidence that prices have turned a corner after four years of producer-price deflation.

Watch Next: Is Monetary Policy Helping Support China's Economy?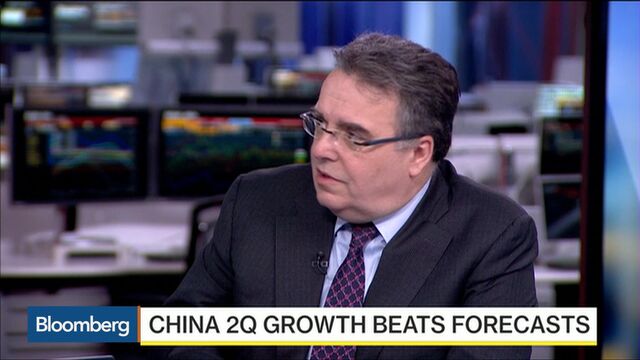 The People's Bank of China has held its lending rate at a record low 4.35 percent since October and cut its reserve-requirement ratio for major banks, with the latest reduction in February to 17 percent. For companies with renewed pricing power, a higher GDP deflator means lower real borrowing costs.
"China hasn't collapsed," Bill Adams, a senior international economist at PNC Financial Services Group in Pittsburgh, wrote in a recent note. "While its economy continues to face daunting challenges in the transition away from export- and investment-led growth, the doomsday predictions for the Chinese economy look like stopped clocks."