China Proves Doubters Wrong For Now as Credit Boom Stokes Growth
Bloomberg News
Same old playbook as growth relies on an epic borrowing binge

Nation's debt expansion is one of the greatest in history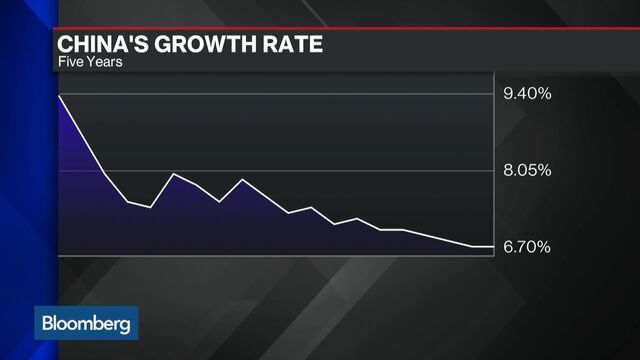 You can't have your fish and your bear paw too.
The ancient parable (the Chinese equivalent of the English-speaking world's cake-based dilemma) pretty much sums up the current state of play within the nation's $10-trillion plus economy.
If the headline numbers are to be taken at face value, China's gross domestic product rose 6.7 percent in the three months through June from a year earlier, defying those who predicted a hard landing. But the stabilization comes at a cost -- a big one. Instead of tackling a debt pile estimated at 2.5 times the economy's size, policy makers are only making it worse with a renewed credit binge.
"The amount of cash Beijing is shoveling into the economy is stunning," said Andrew Collier, an independent analyst in Hong Kong and former president of Bank of China International USA. "Given high fixed-asset investment among state-owned enterprises, it's likely most of it is being consumed by the inefficient state sector. This is more bad news for structural reform. "
Aggregate financing rose 1.63 trillion yuan ($244 billion) in June, topping all 29 analyst forecasts in a Bloomberg survey. That means last month alone saw new credit exceed the 2015 GDP of Chile, Ireland, or Vietnam.

Instead of funding expansion and hiring among private companies, much of the lending is going into state-owned enterprises, many of which are unprofitable and only kept alive to avoid wide-scale job losses. A reluctance by private companies to invest suggests they aren't buying into the recovery story, and even worse may be being squeezed out by a bloated and inefficient state sector.

The credit expansion is at odds with the policy platform President Xi Jinping and Premier Li Keqiang have been articulating. The duo have promised to transform the economic model that has driven China for more than three decades by rebalancing away from manufacturing and investment and towards services and consumption through slashing overcapacity and clearing the way for private enterprise.
So far, the evidence suggests that's progressing slowly at best.
"The stabilization in growth has come at a cost, as China's structural and leverage problems become more severe," said Bloomberg Intelligence economists Tom Orlik and Fielding Chen. "Credit data for June show expansion in lending continuing to accelerate ahead of growth in the real economy. The reform and deleveraging can is being kicked further down an increasingly bumpy road."
Worries about China's leverage are widespread. Ratings firms S&P Global Ratings and Moody's Investors Service have warned that more needs to be done to rein in borrowing, and analysts fear the nation's banking system may need a recapitalization in excess of $500 billion to offset rising bad loans.
For a QuickTake explainer of China's debt, click here
It's not as if China isn't aware of the risks. In May, state media cited an unnamed official warning that excessive debt was China's "original sin" and the country can't borrow its way to long-term economic health.
There are also bright spots on the economic and reform fronts. House prices are rebounding and consumers have shown impressive resilience with retail sales beating estimates in June. Authorities have cracked down on oversight of opaque financing methods for local authorities, while corporate defaults are being allowed and savings and deposit rates have been mostly freed up of state control.
Besides, the second quarter was generally a success for Chinese policy makers after a torrid start to the year. Worries over Britain's planned exit from the European Union, fears of an Italian banking crisis, political turmoil in Brazil and diminished expectations of a U.S. interest rate hike shifted attention away from events in Beijing. That has allowed China to let the yuan weaken to near its lowest in six years without much fanfare and the Shanghai and Shenzhen stock markets have held up after their annus horribilis in 2015.
"Economic reforms have continued," said Andy Rothman, a San Francisco-based investment strategist at Matthews Asia, and previously a U.S. diplomat in Beijing. "No one is happy with the pace, but that's always been the case."
Debt Risk
Still, it's hard to ignore the debt dynamics. Comparing the magnitude and pace of the increase in China's debt-to-GDP ratio to those of other countries, Goldman Sachs Group Inc.'s investment management division said in a report earlier this year that China's increase is among the highest in recent history. And the longer reforms are put off, the greater the risks down the road, said Eswar Prasad, a former chief of the International Monetary Fund's China division and now a professor at Cornell University in Ithaca, New York.
"While there are signs that the Chinese economy has gotten through a particularly rough patch, long-term growth prospects have hardly improved as risks continue to build up and reform momentum has slipped," Prasad said.
Then there's the risk of an exogenous shock stemming from a slowdown in big trading partners or from a natural disaster. Weeks of torrential rain across central and southern China have caused the country's worst flooding since 1998.
Above all, the next six months will be critical for getting the private sector to invest if the economy is to find its feet and cut off the drip of cheap, government supplied credit, said Larry Hu, head of China economics at Macquarie Securities Ltd. in Hong Kong. 
"In the near term they've won a battle," Hu said. "But the war is still going on over whether China can find new growth drivers."
— With assistance by Enda Curran, and Kevin Hamlin
Before it's here, it's on the Bloomberg Terminal.
LEARN MORE