Brazil Real Advances in the Week as Confidence in Temer Grows
by and
Brazil's currency, stocks among the world's best performers

Central bank placed $500 million reverse FX swaps Friday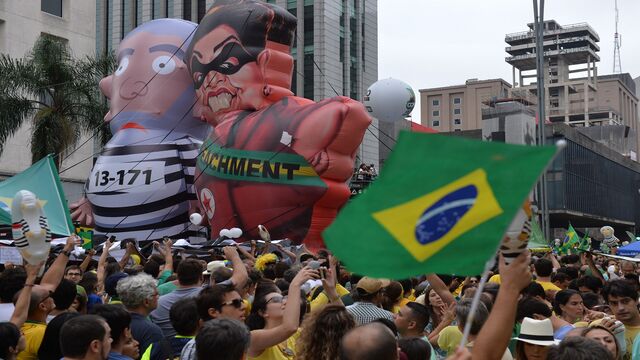 Brazil's currency gained for the sixth week in seven, in spite of central bank efforts to limit gains, amid investor optimism that the interim government will win lawmakers' support for measures to cut the budget deficit and stimulate growth.
The real was up 0.6 percent this week to 3.2802 per dollar on Friday on speculation the appointment of Rodrigo Maia, an opponent of suspended President Dilma Rousseff, as leader of the lower house may ease the passage of measures to shrink a near-record budget deficit. Maia and Acting President Michel Temer this week called on lawmakers from government-aligned parties to cooperate as they seek approval for changes the government claims are crucial to pulling the country out of its deepest recession in a century.
"The short-term trend is still for the real to rise as the U.S. holds off on raising rates while Brazil gets more attractive, amid better confidence in the current government," said Jose Carlos Amado, a foreign-exchange trader at Renascenca DTVM in Sao Paulo.
Even so, the real dropped 0.3 percent on Friday as the central bank intervened to stem the currency's advance. The monetary authority placed all of the 10,000 reverse currency swaps if offered Friday, equivalent to buying $500 million in the futures market. The real extended losses along with other emerging market peers as Turkey's army says it seized power in the country.
Swap rates on the contract maturing in January 2018, a gauge of expectations for interest rates, rose 0.02 percentage point to 12.69 percent.
Before it's here, it's on the Bloomberg Terminal.
LEARN MORE