Attempted Turkey Coup May Imperil Region's Crude Transport
by and
Shipping lanes are said to be uninterrupted following unrest

Crude prices may rise if tankers can't move through straits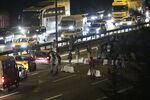 The attempted military coup in Turkey may boost oil prices by imperiling crude shipments through the country, a major energy-trade corridor. For now, shipping lanes are clear.
The Turkish straits are open and shipping traffic hasn't been disrupted, an official at the Istanbul-based shipping center said by phone Saturday.
"Any uncertainty in that region almost invariably results in an increase in oil prices, particularly given the interaction between what goes on in Turkey with Syria," Craig Pirrong, director of the Global Energy Management Institute at the University of Houston's Bauer College of Business, said in a phone interview. Analysts will be looking to see whether there's a "spillover to the major oil producers," he said.
At the crossroads of Europe and Asia, Turkey is a vital conduit of crude transport from Russia and Iraq to the Mediterranean Sea. Millions of barrels of oil travel through the nation's waterways and pipelines each day. The nation is also on the fringe of broader conflict in the Middle East. Syria borders Turkey's southeastern edge.
Turkey's leaders said they have quelled the attempted coup after hours of clashes that saw tanks blockading roads, soldiers fighting police and warplanes bombing the parliament in Ankara. More than 1,500 military personnel were arrested, the presidency said.
Oil Gains
Crude oil futures rose above $46 a barrel in after-market trading in New York following the unrest, extending gains from a force majeure declared by Exxon Mobil Corp. on crude shipments from Nigeria.
David Goldwyn, a former State Department special envoy and coordinator for international energy affairs in the Obama administration, said it was too early to assess the impact on energy transportation from the unrest in Turkey.
The Turkish Straits, including the Bosphorus and Dardanelles, are one of the world's major chokepoints for seaborne crude transit, with about 2.9 million barrels of oil passing through in 2013, the latest year of available data from the U.S. Energy Information Administration.
Turkey is also home to pipelines that transport crude and condensate from nations including Iraq and Azerbaijan to Ceyhan, on the Mediterranean in southern Turkey. Baku-Tbilisi-Ceyhan, a pipeline operated by BP, exported 67 million barrels of crude, or about 740,000 a day, from the port in the first quarter, according to the British company.
The flow to Ceyhan hasn't been disrupted, according to a Turkish Energy Ministry official who asked not to be identified in line with government policy.
At least 10 crude tankers were signaling Turkish ports at the time of the attempted coup, according to data compiled by Bloomberg. They included six Suezmax and two Aframax ships bound for Ceyhan and two Aframax ships destined for the Turkish Straits.
(Updates throughout with details on shipping lanes open, arrests of military personnel)
Before it's here, it's on the Bloomberg Terminal.
LEARN MORE