Who Benefits If Japan's Emperor Steps Down? Printing Companies
By and
Printing-house shares surge in Tokyo after reports on Emperor

Appointing a successor would change the nation's calendar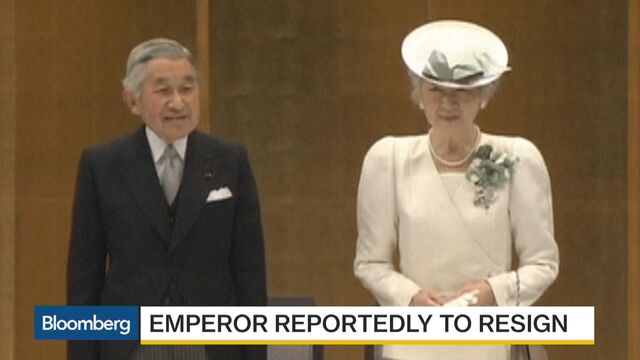 As reports indicate Japanese Emperor Akihito wants to step down, shares of printing companies jumped in Tokyo.
The connection? Japan uses an imperial calendar. This year is Heisei 28, the 28th year of Emperor Akihito's reign. If he gives up the role, many official and commercial documents will need to be reprinted.
"People expect printing demand to increase," said Nobuyuki Fujimoto, a senior market analyst at SBI Securities Co. in Tokyo. "All kinds of materials including business documents and commercial books will become outdated as they use the 'Heisei' date system."
Mitsumura Printing Co. surged as much as 13 percent. The company provides printing services to Japanese businesses including Shiseido Co. and Mitsubishi Electric Corp. Textbook printer Tosho Printing Co. jumped as much as 7.9 percent. Dai Nippon Printing Co. and Kyodo Printing Co. also advanced.
Emperor Akihito signaled his wish to step down in a matter of years, national broadcaster NHK reported Wednesday. The emperor, 82, took over from his father, Hirohito, in 1989. Heisei translates as "achieving peace."