QuickTake
What Is Black Lives Matter?
The basics in two minutes.
by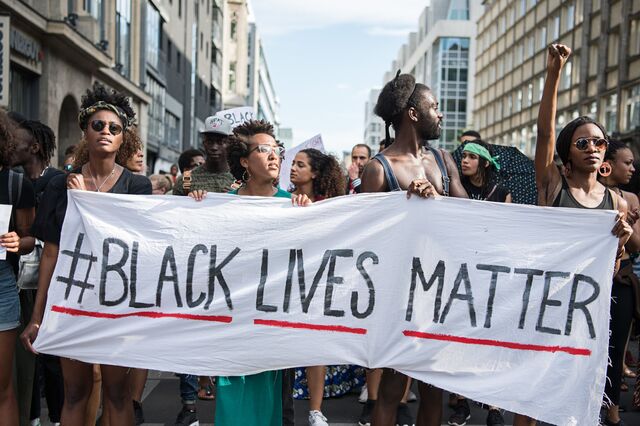 The phrase "Black Lives Matter" originated in 2013 with the community organizers Opal Tometi, Alicia Garza, and Patrisse Cullors as a Twitter hashtag to protest the killing of Trayvon Martin by a community watch volunteer in Florida. When another black teenager, Michael Brown, was fatally shot by a police officer in Missouri the following year, the three women turned the words into an activist network, organizing protests across the country. The phrase has come to refer to a national movement of many groups and individuals with a broad range of social-justice concerns, all focused on law enforcement's use of deadly force against black Americans.
While the U.S. government doesn't keep a comprehensive count of shootings by officers—a lapse FBI Director James Comey has called "embarrassing and ridiculous"—an ongoing Washington Post tally puts the number of people fatally shot by police since the beginning of last year at 1,502, with 24 percent of them, and half the 100 who were unarmed, black. Black people represent 13 percent of the U.S. population. That makes an unarmed black person five times as likely to be killed by a police officer as an unarmed white person.
QuickTake How Police Shootings Feed Off U.S. Strife Over Race
The politics surrounding Black Lives Matter are explosive. Opponents range from those who say it paints police in general as racist, adding to the danger they face on the job, to those who seek to portray it as suggesting only black lives matter. Hillary Clinton is outwardly sympathetic to BLM's cause but hasn't impressed its leaders, while Donald Trump's racial rhetoric sets him in direct opposition to the movement. Meanwhile, President Barack Obama's response to American gun violence—from the Trayvon Martin slaying, to the Orlando massacre, to the murder of five officers in Dallas after two black men were shot to death by police last week—has grown increasingly anguished and quietly furious.
The video above (which contains graphic images) reflects the ubiquitous cell phone cameras and social media platforms that have helped to supercharge Black Lives Matter.
Before it's here, it's on the Bloomberg Terminal.
LEARN MORE