U.S. ELECTION WRAP: Pence Pick May Signal Start of 'Safe Trump'
By , , and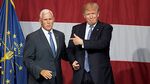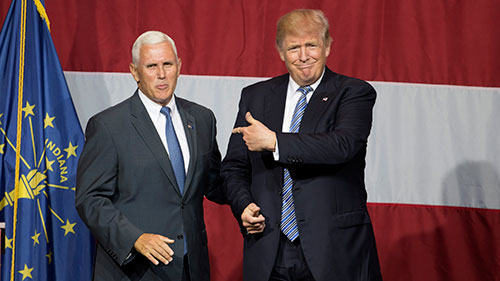 Amid a barrage of news reports that Donald Trump will tap Indiana Governor Mike Pence as his running mate, that choice may signal a more cautious course for the billionaire businessman-turned-reality-TV star-turned-almost presidential nominee.
A Trump-Pence ticket would offer "some reassurance to Republicans that maybe there will be a little more stability and standard-brand conservatism in the Trump campaign," Allan Lichtman, a political history professor at American University in Washington, said in an interview
Pence wouldn't be a "risky" choice, as other potential running-mate picks such as former House Speaker Newt Gingrich or N.J. Governor Chris Christie, Lichtman said
Political analyst Stuart Rothenberg appeared underwhelmed in gauging the overall enthusiasm Pence is likely to arouse:

"If Pence is the VP pick, he is likely to help Trump carry others in the Pence family," according to a Rothenberg Tweet

While Pence as the VP nominee would assuage some party concerns about Trump, it "absolutely doesn't matter" in terms of who wins the White House in November: Lichtman
In 1988, when George H.W. Bush tapped then Indiana Senator Dan Quayle to be his running mate, everyone said it would be a "disaster," Lichtman said

But Bush went on to win a "fairly handy victory," even after Quayle was on losing end of "maybe the most embarrassing debate moment ever," referring to Democrat Lloyd Bentsen's "You're no Jack Kennedy" comeback

As of mid-afternoon, the Trump camp insisted no final decision had been made on the veep pick and the official announcement is still set for tomorrow at 11 a.m. in Manhattan
One Republican close to Pence said the campaign is preparing to announce Pence, but that a last-minute change of heart was possible, Bloomberg's Jennifer Jacobs reported
Bloomberg's Sahil Kapur takes a look at Pence's record during his 12 years serving in the U.S. Congress 
Gingrich detailed Trump's VP vetting process on a video posted on Facebook

PENCE CHATTER
Social media lit up with reaction to the prospect of Pence as Trump's running-mate choice

Vox outlined a series of Twitter posts in which Pence has disagreed with Trump
David Axelrod: Pence "is rational pick. An offering to conservatives; evangelicals. But how will Pence fare in the parry and thrust VP role demands?"
Ann Coulter: "Withholding comment until it's official, but if claims about Pence as VP are correct, boy was I right about this being Trump's first mistake"
Bill Kristol: "Mike Pence was an eloquent and knowledgeable defender of the Iraq war and the surge. Will he stick to his guns as Trump's VP?"
Harry Shearer: "A Trump-Pence for your thoughts."
Ben Shapiro: "Mike Pence blew all his conservative credibility over Religious Freedom Restoration Act in Indiana. What a nothingburger."
Michelle Malkin: "Reminder of how bad Mike Pence is on #CommonCore"
Norman Ornstein: "Why Pence over Gingrich, Christie? One-syllable name. Trump believes that is a sign of strength."
Dan Pfeiffer: "Things I am sure of: 1. Trump knows less about Pence than the media or the Clinton campaign; 2. He has no operation set up to defend Pence"

ON THE TRAIL
Hillary Clinton campaigned this afternoon with Virginia Senator Tim Kaine, widely seen as her "safe choice" as a running mate, Reuters wrote

Kaine is fluent in Spanish, experienced in foreign policy and has executive experience as a former Virginia governor and mayor of that state's capital, Richmond

On Saturday, Clinton will make a "policy announcement" via video address to Netroots Nation's annual convention in St. Louis

Clinton aides will appear on panels at the group's gathering to discuss the "progressive agenda" and Democratic unity

POLLS
Clinton has lost her national lead over Trump, according to a CBS/New York Times poll that shows them tied at 40%

In June, Clinton led Trump in the survey, 43%-37%
Adding Libertarian candidate Gary Johnson to the mix, he gets 12% while Clinton and Trump remain tied at 36% each

"It's not surprising that Hillary would take a hit after the toughest weeks of her campaign," said Lichtman, who has correctly predicted the outcome of every presidential election since 1984

He referred to FBI Director James Comey's comments last week on the investigation into Clinton's use of a private e-mail server while secretary of state, which were "as bad as could be" for her, short of an indictment: Lichtman

Just 19% of Hispanic voters support Trump, while 67% support Clinton, according to a Univision poll

Trump would need support of at least 40% of Hispanics to win election, according to the Spanish-language media outlet

FUNDRAISING
Trump's big-money backers are struggling to raise money, Bloomberg's Zachary Mider reported

Latest setback is billionaire Thomas Barrack's decision not to donate to any super-PAC

President Obama will fundraise for Clinton in Aug. in N.C., the Atlanta-Journal Constitution reported

Invitation obtained by the newspaper said fundraiser will be held at home of Andy Prozes, former CEO of LexisNexis Group, and Laura Heery, architect and strategist
Attending costs $33k, while donating $100k will buy attendees title of co-chair

ADVERTISING
Hillary for America released an anti-Trump ad showing children watching Trump speak on TV

Ad contrasts Trump and Clinton speeches, with caption "Our children are watching. What example will we set for them?"

CONVENTIONS
Republican National Cmte released a partial speaker list for its confab in Cleveland, which includes Christie, Gingrich and Ret. Lt. Gen. Michael Flynn (the latter was another running-mate prospect)

Senate Majority Leader Mitch McConnell, House Speaker Paul Ryan, members of Trump family also on tap to address the convention that starts Monday
Continental Resources founder Harold Hamm is listed

RNC Chairman Reince Priebus predicts that efforts to halt Trump's nomination at next week's convention will fail

POKEMON GO
Clinton campaign is using popular app Pokemon Go to register Ohio voters, USA Today's Cincinnati.com reported

Ohio campaign volunteers/staffers are setting up camp at locations where users are catching, training and fighting their Pokemon, using the app as an opportunity to register Millennial voters
The Clinton camp even plans at event around the game 
"Join us as we go to the Pokestop in Madison Park and put up a lure module, get free Pokemon, & battle each other while you register voters and learn more about Sec. Hillary Clinton!!! Kids welcome!''

Meanwhile, Trump told Washington Examiner he regrets not having room in his schedule for the app, which is based on the video game created in the 1990s by a Japanese insect collector

"I wish I had time," he said about the game that came out July 6

ETC
Supreme Court Justice Ruth Bader Ginsburg said she regrets her "ill-advised" comments regarding Trump, Bloomberg's Greg Stohr reported
Comey told House Homeland Committee that he can't address whether Clinton's e-mail practices put American lives in danger

Comey also said former President Bill Clinton's impromptu meeting with Attorney General Loretta Lynch influenced his decision to publicly detail his findings in the Clinton e-mail probe

Bernie Sanders has a book deal with Thomas Dunne Books, the Associated Press reported

Sanders will pen "Our Revolution: A Future to Believe In," to be released November 15, a week after election day

Christie ally David Samson pleaded guilty to a federal corruption charge for pressuring United Airlines to fly a money-losing route convenient to his weekend home, Bloomberg's David Voreacos and David Kocieniewski report

CONGRESSIONAL RACES
IL-SEN: Democratic Rep. Tammy Duckworth's campaign released TV ad saying that fighting for veterans is "her life's work,"

Ad calls attention to Duckworth's status as Army veteran who lost her legs as helicopter pilot in Iraq; spot also accuses Republican Sen. Mirk Kirk of having "flat-out lied repeatedly" about his military service

Kirk, rated by pundits as among most vulnerable GOP Senate incumbents this year, has distanced himself from Trump and will still oppose him even if Pence, a former colleague, joins Republican ticket, Kirk told Bloomberg's Steven Dennis

NOTE: Kirk and Pence each first elected to the House in 2000

IN-SEN: Democrat Evan Bayh in first TV ad says he "can't sit on the sidelines" after seeing how "the bitter partisanship and lack of progress in Washington has gotten even worse"

Bayh, former senator and governor, announced this week for seat of retiring GOP Sen. Dan Coats; GOP nominee is Rep. Todd Young

PA-SEN: Republican Sen. Pat Toomey's campaign released TV ad stressing his opposition to Iran nuclear deal, drawing contrast with Democratic challenger Katie McGinty on "sanctuary cities"

Senate last week failed to advance Toomey proposal to eliminate federal financial assistance to jurisdictions with laws barring police from turning over undocumented immigrants to federal authorities; McGinty said Toomey's plan would deprive Philadelphia of millions of dollars
McGinty released statement calling for doubling of funds for Justice Dept.'s Community Oriented Policing Services (COPS) program

GA-03: Georgia Chamber of Commerce endorsed dentist Drew Ferguson over state Sen. Mike Crane in July 26 Republican runoff, Atlanta Journal-Constitution reported

Winner heavy favorite to succeed retiring GOP Rep. Lynn Westmoreland

IN-04, IN-05: GOP Reps. Todd Rokita and Susan Brooks potential candidates to replace Pence as Republican nominee for governor, AP reported

Rokita, former Ind. sec/state, and Brooks, a ex-federal prosecutor, represent strongly Republican districts that take in some Indianapolis suburbs

MD-06: Former Qualcomm executive Mark Epstein has given $2.1m to super-PAC aiding his wife, GOP nominee Amie Hoeber, according to FEC filing

Hoeber, defense consultant, running against Democratic Rep. John Delaney in Democratic-leaning district that runs from far western Md. to Montgomery County suburbs near Washington

NY-22, NY-24: House Majority PAC reserved $455k in TV ad-time for Binghamton market, $177k in Utica, according to release from Democratic super-PAC

Binghamton and Utica are population centers in NY-22, where Republican Claudia Tenney faces Democrat Kim Wells for seat of retiring GOP Rep. Richard Hanna; wealthy businessman Martin Babinec seeking third-party ballot access
House Majority PAC also said it increased airtime spending to $925k from $372k in Syracuse, biggest city in NY-24, where Democrat Colleen Deacon challenging GOP Rep. John Katko
Before it's here, it's on the Bloomberg Terminal.
LEARN MORE