U.K. Tidal-Power Project Could Get Government Loan Guarantees
by
Former Minister reviewing project likens lagoon to super sewer

Projects unable to secure European funding after Brexit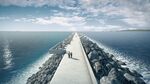 A series of planned tidal lagoons around Britain's coastline could be financed with government guarantees similar to those given to the Thames Tideway "super sewer," according to the official leading a review of the renewable-energy project.
Charles Hendry, a former U.K. minister, said late Wednesday in London that he's examining every possible way the 1.3 billion-pound ($1.7 billion) Swansea Tidal Lagoon can obtain the funds needed to be built. His six-month review commissioned by the government is due to end in November.
"This is a challenging area because it doesn't fit into neat little boxes," he told a new cross-party group established to support marine energy in Parliament. In addition to generating power, the Swansea project could also provide employment and flood-protection benefits.
Tidal Lagoon Power Ltd. is in talks to secure a long-term contract that would guarantee prices for electricity generated by the planned 320-megawatt Swansea Bay project in South Wales. The facility could be the first of six planned lagoons harnessing the power of the world's second largest tidal range. Unlike wind farms and solar projects that typically have a 25–year lifespan, the lagoons would be in place for 120 years.
Tidal lagoons may be positioned to secure power contracts for 80 to 90 years, as well as government loan guarantees to offset some construction risks, according to Hendry.
"It's very difficult to be making solid predictions for 90 years out," he said. "But that might be the right model and we need to explore that."
He likened the lagoons to the Thames Tideway tunnel, whose developer, Bazalgette Tunnel Ltd., secured a government support package to protect against insurance risks, debt-market disruptions, cost overruns and potential insolvency. That project also secured a 700 million pound loan from the European Investment Bank in May -- funding the lagoons may not have access to when the U.K. leaves the European Union.
"There are some areas where Brexit will make it more difficult," Hendry said.
"On the other side, there may be issues on state aid, which may be easier to manage outside the EU," he said. "There will be some aspects to this which will be made more difficult and some more straight forward but we won't be able to fully quantify those for quite some time."
Before it's here, it's on the Bloomberg Terminal.
LEARN MORE