business
Two More Fed Officials Play Down Brexit Impact on U.S. Growth
By and
Atlanta Fed chief Lockhart sees 'negligible' near-term effect

Kansas City's George advocates for gradual Fed hikes to resume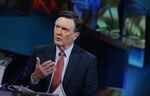 Brexit was a dark cloud on the horizon for the Federal Reserve. With the storm passing, a number of officials have said that repercussions from Britain's vote to quit the European Union probably won't derail the U.S. economy, or stop them from raising interest rates.
Comments Thursday from the presidents of the Federal Reserve Banks of Kansas City and Atlanta chimed with other remarks from U.S. central bankers playing down the likely fallout from the U.K. referendum as they prepare for a policy meeting later this month.
"I have no basis -- statistical or anecdotal -- for assuming any significant change in economic momentum," since the June 23 U.K. referendum, Atlanta Fed chief Dennis Lockhart told an audience in Victor, Idaho. "To summarize my view of Brexit effects: negligible near-term effect; a risk factor over the medium term; higher uncertainty that could amount to a persistent economic headwind."
Fed Chair Janet Yellen has not publicly weighed in on the debate and has no appearances scheduled between now and the July 26-27 meeting of the Federal Open Market Committee, which will not be followed by a press conference.
Nor has there been any signal from other senior Fed officials to counter the perception that they'll stand pat this month to await more information before raising rates again.
June Hold
Policy makers held the target range for the benchmark federal funds rate unchanged at 0.25 percent to 0.5 percent at their meeting in June to wait for more information on the health of the U.S. labor market following a weak reading for May, and to assess Brexit.
Since then, stocks have rallied to record highs as investors bet central banks will step up their efforts to support global growth, while incoming U.S. data has on balance been positive. In addition to a big rebound in payrolls last month, there's also been stronger readings from purchasing managers surveys for both manufacturing and services.
Investors see only a 6 percent probability of a rate hike this month, according to pricing in fed funds futures contracts, though the chances of a move in September have rebounded to 21 percent -- compared with just 2 percent at the start of the month -- with December viewed as a 37 percent bet.
George, Brexit
Kansas City Fed chief Esther George, an FOMC voter this year who has dissented twice in favor of higher rates, told an audience in Oklahoma City that she expected the impact of Brexit would be "mild" and repeated her view that moderate U.S. growth and progress toward the central bank's twin goals of maximum employment and price stability warranted a hike.
"It is important to move gradually as we go through this normalization process," she said. "But I continue to think that the current level of interest rates today is too low relative to the performance of the economy."

Cleveland's Loretta Mester, while noting that financial markets had handled the vote "in an orderly manner," said Wednesday in Sydney it could yet hurt the U.S. economy if it resulted in a persistent appreciation of the dollar, which could hinder exports.
Officials predicted two rate increases this year when they submitted quarterly forecasts in June, according to their median forecast, though six of the seventeen policy makers projected that only one move would be warranted.
Lockhart said that "at least one policy move could take place, and possibly two" this year, echoing Philadelphia Fed President Patrick Harker, who said Wednesday that two hikes may be appropriate.
"Brexit is low on my list of risks, and I do not anticipate more than a transitory couple of 10ths of a percentage point slowdown in growth," Harker said.
— With assistance by Jeanna Smialek
Before it's here, it's on the Bloomberg Terminal.
LEARN MORE