Truck Rams Crowd Killing 80 in Bastille Day Attack in Nice
by , , and
Hollande says terrorist nature of attack can't be denied

French state of emergency to be extended by three months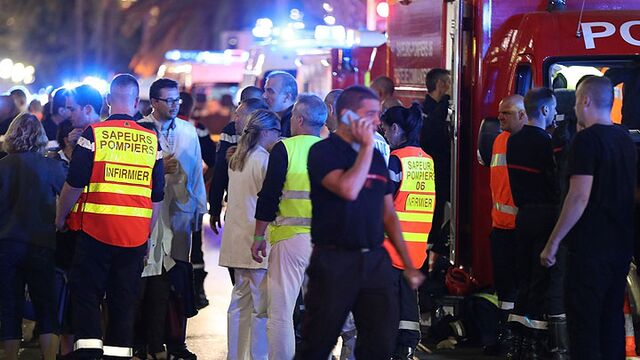 France again was put on a terror footing as a truck loaded with arms drove into a late-night crowd in Nice on the country's Mediterranean coast, killing 80 people as the nation celebrated its Bastille Day holiday.
Several hundred were injured and police ordered people off the streets. The truck driver was shot and killed by police, local authorities said.
President Francois Hollande said the "terrorist nature" of the attack could not be denied. Interior Minister Bernard Cazeneuve said 80 people were killed and a further 18 were in a critical condition.

"After Paris in January 2015 and then in November, Nice has been hit," Hollande said in Paris in the early hours of Friday. "All of France is under the threat of Islamic terrorism," he said. "We must show absolute vigilance and determination."
Hollande extended by three months a state of emergency created after prior terror attacks that was set to lapse on July 26. He also called up military reserves. Paris anti-terrorism prosecutor Francois Molins has been put in charge of the investigation, according to his spokeswoman, Agnes Thibault Lecuivre.
Hollande is set to fly to Nice on Friday after a national defense council meeting, as is Prime Minister Manuel Valls.
The administration has dealt with multiple attacks since the beginning of 2015, notably the terrorist assault in Paris on Nov. 13 that left 130 dead.
"This barbaric act randomly hit innocent people who were coming together to celebrate our national holiday," Paris Mayor Anne Hidalgo said in a statement after speaking with regional president Christian Estrosi. "We share the pain."
The attack in Nice happened on the Promenade des Anglais, the main strip running along its beach and near the Negresco, a well-known Art Deco hotel. Shotgun-toting police wearing black riot gear sealed off the street and soldiers blocked intersections preventing people from getting near the site. The Ruhl Casino two blocks away was closed following the attack, staff said.

Before it's here, it's on the Bloomberg Terminal.
LEARN MORE