This $278 Billion Bond Manager Sees Low Returns, More Volatility
by
Peebles says returns may be lower for five to 10 years

Wrong people own risky assets, AllianceBernstein manager says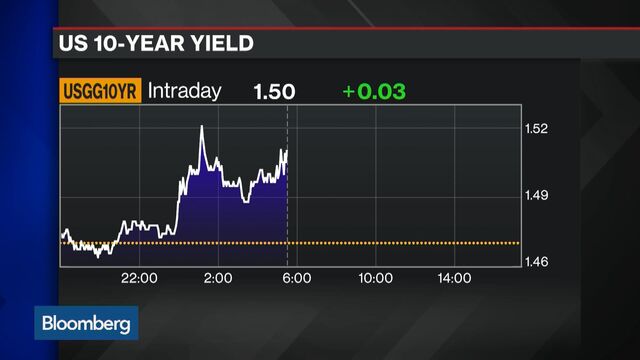 Douglas Peebles, chief investment officer of fixed income at AllianceBernstein Holding LP, said investors face a dual threat in an era of turmoil with bond yields near record lows.
"Markets are going to be more volatile today than they've been," he said Thursday in a Bloomberg Television interview. "And to go along with that piece of bad news, there's another piece of bad news that, I think, if we look out five or 10 years, the returns are also going to be lower."
He joins money managers including Jeffrey Gundlach in saying that central bank policies to stimulate economic growth are distorting fixed-income markets. While some on Wall Street are responding by sticking with the safest securities, many "average" investors may be too aggressive in their search for better yields, he said.
"You have, I would argue, the wrong people owning the risky assets right now," said Peebles, who oversees about $278 billion, including funds for institutional and retail clients.
One reason for volatility is that voters in democracies are anxious for change, even if they don't have a clear understanding of alternative policies, he said, citing the decision by U.K. voters to leave the European Union. There is still opportunity for "nimble" investors to take advantage of dislocation in markets, he said.
"You have to be on the other side of the boat, when everybody else is on one side of the boat," he said. "You have to be willing to go out and buy things when they're cheap."
Before it's here, it's on the Bloomberg Terminal.
LEARN MORE