Singapore Economic Growth Improves After Rebound in Services
By
Quicker expansion may be temporary amid global uncertainty

Central bank eased policy in April; next review in October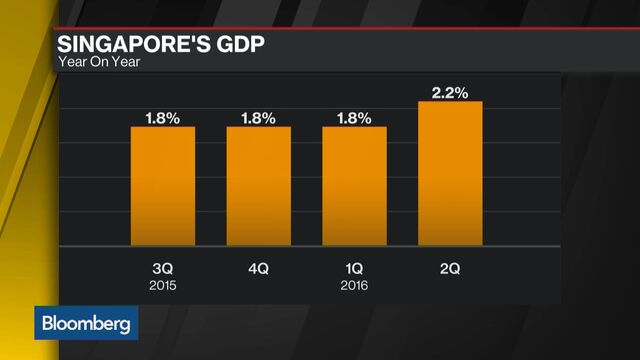 Singapore's economy grew at a faster pace in the second quarter following a rebound in the services industry, a recovery that may be difficult to sustain as risks to global growth climb.
Gross domestic product expanded an annualized 0.8 percent from the first quarter, according to an advance estimate by the Ministry of Trade and Industry on Thursday. That compares with a median forecast of 0.9 percent in a Bloomberg survey of nine economists and 0.2 percent expansion in the first three months of the year.
Trade-dependent Singapore is vulnerable to swings in global demand as the world still grapples with the U.K.'s decision to leave the European Union. That raises question marks on whether last quarter's improvement in the services industry -- a sector that makes up about 69 percent of GDP -- can be repeated.
"It's a hollow relief," said Vishnu Varathan, an economist at Mizuho Bank Ltd. in Singapore. "Brexit risks are not reflected in the pick up."
The government is forecasting growth of 1 percent to 3 percent this year. The quarterly advance estimate for GDP is based on only two months of data and the figures are revised when more information is available.

The services industry -- which includes sectors such as retail trade, transportation and storage, and finance -- expanded an annualized 0.5 percent in the second quarter, compared with a 4.8 percent contraction in the previous three months. Growth in manufacturing weakened to 0.3 percent from 18.4 percent.
"Within the retail trade sector, growth was supported by strong motor vehicle sales," MTI said in a statement. Manufacturing was supported by growth in biomedical and electronics output, it said.
Compared with a year earlier, the economy expanded 2.2 percent in the second quarter, in line with the median estimate of 17 economists surveyed by Bloomberg.
The Monetary Authority of Singapore -- which uses the exchange rate as its main tool -- eased its policy stance in April by announcing it won't seek currency appreciation. The central bank may make a further adjustment in October, according to Australia & New Zealand Banking Group Ltd.
"There is still a risk of MAS easing," said Khoon Goh, head of Asia research at ANZ in Singapore. That may entail the central bank re-centering the undisclosed band within which it allows the Singapore dollar to fluctuate, he said.