Singapore Bourse Opens as CEO Atones for Halt That Riled Traders
by and
Loh apologized for error and said recovery time must be better

Market closed early to ensure order and take on feedback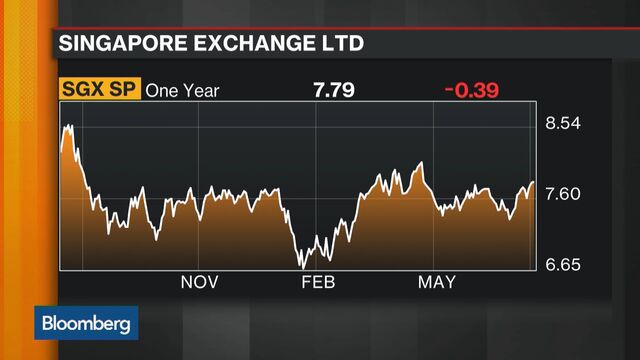 Singapore Exchange Ltd. reopened its stock market after a disruption shut trading early on Thursday, prompting an apology from Chief Executive Officer Loh Boon Chye.
Southeast Asia's biggest bourse was forced to halt stock trading at 11:38 a.m. local time on Thursday because of a technical malfunction, and it failed to follow through on two pledges to reopen. The benchmark Straits Times Index climbed 0.9 percent as of 9:42 a.m. on Friday, tracking gains in Asian stocks. Shares of the exchange operator, also known as SGX, increased 0.1 percent.
Loh, whose one-year anniversary as CEO was Thursday, replaced Magnus Bocker just a few months after the Swede was forced into a public apology in the wake of two trading disruptions in the space of a month. Those mishaps led to a reprimand from the Monetary Authority of Singapore. The latest breakdown was at least the third malfunction at the exchange operator in the past year, after a near two-hour disruption in derivatives trading in August and a one-hour halt in October.
"People are still going through the indigestion of yesterday," said Nicholas Teo, a trading strategist at KGI Fraser Securities Pte in Singapore. "Some back offices worked through the night, and I'm sure SGX did as well. If I'm SGX, I would probably be happy with a light day in order not to strain the systems."

SGX twice notified brokers on Thursday that it was planning to reopen, once targeting 2 p.m. and then 4 p.m., but on both occasions failed to restart trading.
The exchange detected a technology issue early in the day that affected its trade confirmation process and so it moved to a secondary system, it said on Friday. But duplicate and missing trade confirmation messages were seen in that system.
"We sincerely apologize for the market disruption," Loh said in the Friday statement. "Our recovery time has to be better and we must minimize downtime for market participants."
MAS said Thursday that it was closely monitoring the situation. The malfunction exceeded the regulator's acceptable maximum unscheduled downtime for financial institutions of four hours in any 12-month period.
"It's not a great start for the CEO," said Alan Richardson, a Hong Kong-based fund manager at Samsung Asset Management, which holds SGX shares. "These kinds of glitches shouldn't be happening with such frequency in an international financial center."
The exchange hosted at least three calls during Thursday afternoon, one of which involved raised voices from some participants, according to two people who asked not to be named because the talks were private. About five minutes before the scheduled 4 p.m. start, brokers demanded SGX cancel the reopen because they were worried about a disorderly market, said the people. One of the issues was that different parties were seeing different data.
Confused and Unhappy
Thursday's events left some market participants confused and unhappy. One trader at a Singapore-based firm said they had positions they couldn't exit because of the abrupt close. The trader, who asked not to be named so as not to jeopardize relationships with SGX, said they were having problems with their orders as early as 10 a.m.
Singapore is home to Southeast Asia's largest stock market, with total capitalization in the city of $494 billion, according to data compiled by Bloomberg. About S$1.6 billion ($1.2 billion) of shares changed hands on an average day in the past 12 months. The exchange maintains a monopoly on stock trading.
SGX isn't alone in suffering from technical errors. Malfunctions at Deutsche Boerse AG, Europe's biggest derivatives exchange, disrupted trading in February and July 2015, while there was a one-hour halt in trading on Euronext NV's derivatives products in March last year. The New York Stock Exchange had an outage a year ago that lasted 3 1/2 hours.
Before it's here, it's on the Bloomberg Terminal.
LEARN MORE