Silver Glut Swamps India as Buying Frenzy Passes Country By
By
Silver imports may tumble 30% this year on poor demand: Rathod

Dealers are trying to offload supplies at a discount: Hundia
Silver imports by India are set to plunge from last year's record as jewelers grapple with slowing demand and excessive inventories after domestic prices climbed to the highest levels since 2013.
Overseas purchases probably slumped by about 40 percent from a year earlier to 2,000 metric tons in the first half, and total imports for the year will fall short of the 7,500 tons bought in 2015, said Chirag Sheth, a Mumbai-based analyst at Metals Focus Ltd., an independent precious-metals research firm.
India, the top consumer of gold after China, is also one of the world's largest buyers of silver, which is popular in rural areas where farmers with no access to banks prefer it as a store of value. Multi Commodity Exchange futures have jumped 42 percent this year, almost double the 24 percent rise in gold, tracking global prices. Stockpiles were at two-year highs at the start of January, Sheth said.
"There are ample inventories in the system and these stocks would need to be sold first before anyone will try to import more," Sheth said by phone on July 12. Investment demand, which represented about 45 percent of consumption last year, will take a big hit and consumers are looking to sell on any small price gains, he said.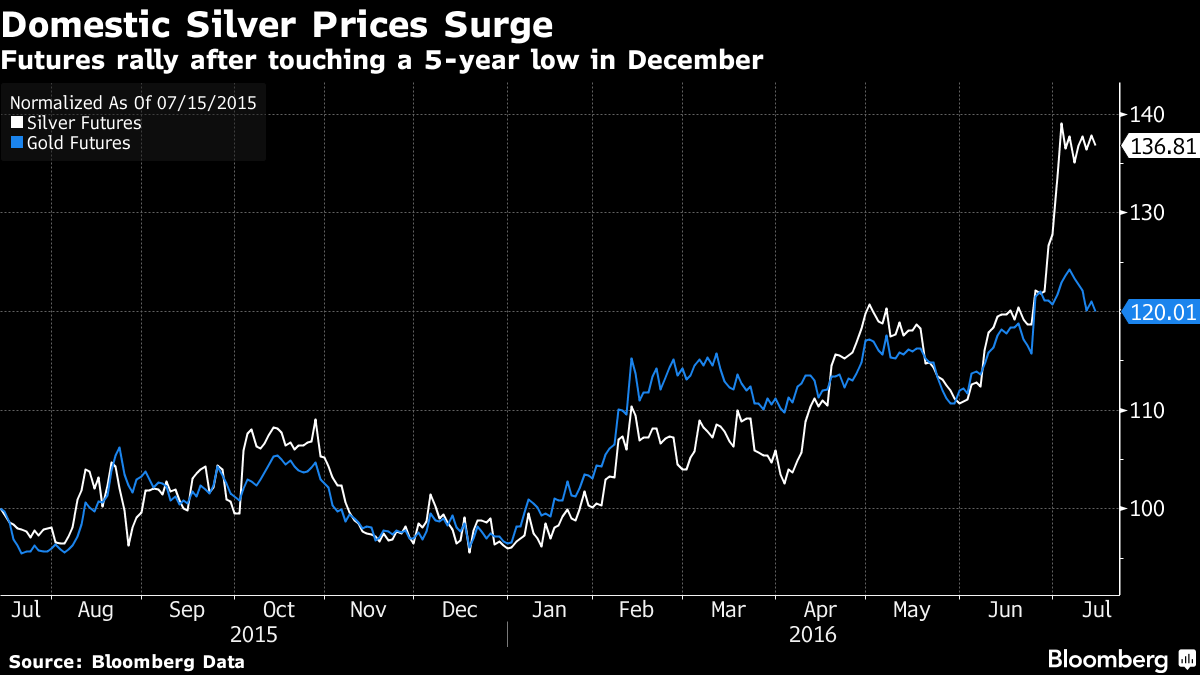 Long seen as the poor man's gold because you need about 65 grams to buy one gram of the more precious metal, silver is so ingrained in the Indian psyche that the rupee is named after 'Rup,' the Sanskrit for silver. Women prefer low-cost silver on their feet and gold on their hands, neck and face.
The slowdown in Indian demand contrasts with the global market this year. Investors have piled into silver-backed exchange-traded funds, pushing up assets 8 percent since the start of January to a record 20,430 tons. Funds have boosted their U.S. net-long futures and options positions to the highest since the data started in 2006, Commodity Futures Trading Commission data show.
Imports Slump
Global investors have sought precious metals as a haven from increasing economic and political risks, negative or low interest rates, and most recently the fallout from the U.K. vote to leave the European Union.
Silver imports by India may drop 30 percent to about 4,500 tons this year, according to estimates from Ranjeeth Rathod, managing director at importer MNC Enterprises (P) Ltd. "This year has been extremely bad in terms of demand," he said by phone from Chennai. His company usually imports about 500 tons annually, but bought less than 100 tons in the first half of 2016.
"Stocks are lying with the banks and dealers are trying to offload supplies at a discount to the import costs," said Suresh Hundia, owner of Hundia Exports Ltd., and a former president of the India Bullion and Jewellers Association Ltd. "In the last two months, imports have been almost negligible because there is not much demand in the market."
Little Upside
Hundia said he doesn't see much upside for silver and that will cap investment demand in India. Prices have run up too fast and need to consolidate around these levels before people are confident enough to enter the market, Rathod said. "People are just not convinced about further bullishness in prices to invest," he added.
India imports silver mainly from the U.K., mainland China and Hong Kong and ships in most of the metal it consumes. While a good monsoon may boost prospects for rural income and aid jewelry and silverware sales from October, growth in demand in these segments will be half of last year because of the surge in prices, Sheth said.