business
Office Fit for King Alerts Foreign CEO to Ukraine's Ills
By
Polish-born boss tasked with revamp of Soviet-era monopoly

Corruption, runaway costs, outdated equipment among issues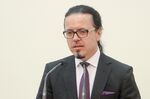 For the Polish boss of Ukraine's railways, simply walking into his lavish new office laid bare the ills of the company he took over last month.
Wojciech Balczun, the first foreigner to head a fully state-owned enterprise in Ukraine, was struck by the disparity between his new surroundings and the plight of the business: while the work space he inherited was decked out with pricey redwood furniture and featured a hotel-style mini-bar, the company's most modern freight locomotive dates back to 1969 and most passenger wagons also are from the Soviet era.
What Balczun found underlines the challenges Ukraine still faces, two years after its second revolution in a decade demanded an end to the wide-scale mismanagement and corrupt practices that flourished under ousted leader Viktor Yanukovych. Dependent on aid from abroad, the nation's foreign donors want the government to intensify anti-graft efforts, with measures to boost transparency so far bearing little fruit.
Fresh from overseeing a much-lauded revamp of train travel back in his homeland, 46-year-old Balczun was picked to similarly transform Kiev-based Ukrzaliznytsya, a sprawling monopoly with almost 300,000 employees and about $2.5 billion in annual revenue. His first impressions gave him pause for thought.
"My expectations were little better than reality," Balczun said in an interview, likening his new office to a museum. "Having been here for a few weeks, I'd have given a lot of thought before applying for this job if I had the chance again. But it's one of the best challenges a railway manager can imagine."
With Ukraine's creditors demanding fiscal rigor, Ukrzaliznytsya -- whose assets include a volleyball club -- is a budget risk that must be dealt with. It lost more than 15 billion hryvnia ($600 million) in 2014 as war in the nation's east ravaged cargo traffic, the hryvnia plunged and the economy fell into recession. The loss widened last year, despite a debt-restructuring agreement and a tariff increase.
'Bright Outlook'
Investment bank Dragon Capital said this week in a note that there's a "bright outlook for further reforms at the company with the arrival of new foreign management." It welcomed the timely release of Ukrzaliznytsya's financial results, which it said were published three months earlier than last year.
Other state enterprises have proved similarly toxic. Energy company NAK Naftogaz Ukrainy, which was for years the biggest drag on the budget, has raised tariffs to market levels and is being broken up to improve efficiency. An ex-KPMG manager with an MBA from Georgetown University was hired to turn around the Ukrposhta postal network.
State firms have also been vehicles for corruption. Reformist Economy Minister Aivaras Abromavicius quit in February, complaining a ruling-party lawmaker wanted to install an associate in a key management role. His exit triggered the worst political crisis since the revolution.
Privatization Kick
The government, embarking on a privatization drive, can't offload Ukrzaliznytsya after parliament prohibited its sale. For now, Balczun plans to shave 10 percent off the company's costs, saving $280 million a year and helping free up cash to upgrade outdated rolling stock. He'd also like to stem graft, though was astonished when he discovered red tape would prevent him from immediately firing an employee caught stealing.
"Corruption is a huge problem -- it seems to me the entire system was established in order to facilitate it," Balczun said, stressing he needs full autonomy to implement his overhaul. "I'd like to start with an unprecedented modernization program."
Balczun has hired fellow a Pole to overhaul procurement at Ukrzaliznytsya, saying he needs "new people with spotless reputations." Since his appointment, the company has signed an accord with Bombardier to start joint production of locomotives in Ukraine.
Balczun, who spends his spare time as a singer in a rock band, previously headed the cargo wing of Poland's government-owned railroad operator for five years. He oversaw PKP Cargo SA's restructuring and 2013 initial public offering in Warsaw, dealing with 180 trade unions and reducing staff numbers by 40 percent, while better utilizing the company's real estate assets.
Back in Kiev, one of Balczun's first requests was for a new chair for his desk, replacing the luxurious one he found on arrival. He says he's ready for the daunting task ahead.
"I'm not a person who's comfortable with losses," Balczun said. "I'd like to become a symbol of positive change in this country."
— With assistance by Konrad Krasuski
(
Updates with bank comment after 'Bright Outlook' subheadline.
)
Before it's here, it's on the Bloomberg Terminal.
LEARN MORE