Nest Unveils First Product Post-Fadell: Outdoor Security Camera
By
CEO Tony Fadell stepped down last month after device delays

Uses machine learning to distinguish man from racoon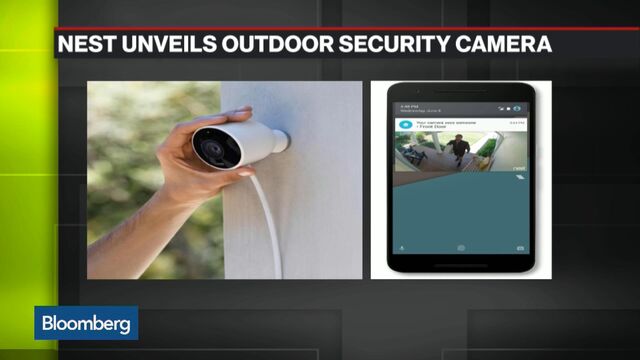 Nest Labs Inc., a unit of Alphabet Inc., introduced its first new connected-home gadget in more than a year after a rocky few months that saw the departure of its controversial chief executive officer.
The Nest Cam Outdoor takes the company's indoor home-monitoring camera and puts it outside, using machine learning to alert homeowners to trespassers on their property. Plugged into a house's external outlet, the Wi-Fi-enabled, weatherproof device provides constant live streaming to its users via an app, sending an alert when a person -- but not a raccoon -- walks into its frame.

"We're starting to think about what's worth notifying you of," said product manager Mehul Nariyawala. "Peace of mind and the protection of your home is primary."
Once a leader in home-connected gadgets that monitored devices like thermostats and smoke alarms, Nest needs a hit to revive sales and buffer its standing in Alphabet's stable. Since being being bought by Alphabet's Google in 2014 for $3.2 billion, Nest has struggled to release new products and saw the departure of its demanding CEO and founder, Tony Fadell, a former Apple Inc. product-design executive. He was replaced by former Motorola Home executive Marwan Fawaz, who is faced with filling the product lineup and meeting Alphabet's aggressive sales targets.
The Nest Cam Outdoor is available for pre-order now, to be released in the fall for $199.

After rolling out a new version of its indoor Nest Cam home-security device last year, the company found that 30 percent of users pointed it outside, sparking the redesign. Nest will be competing with other models already on the market including Netgear Inc.'s Arlo wire-free camera and a stick-up model by Ring. Nest says it differentiates itself from rivals with its machine learning, which through the connection to the app lets users keep the camera on all the time and only get relevant notifications.
"The future is about intelligent alerts," said Maxime Veron, director of hardware product marketing, in a statement. "Customers want to know when something is happening that genuinely deserves their attention."
But the device has its limits. While it can detect the difference between an animal and a person, for instance, it can't yet distinguish between a burglar and a child.
"Artificial intelligence at a human level requires more data," Nariyawala said. "Humans are not binary. That's where computers have to grow."