Mets Beat Yankees in Local Ratings at Midseason for First Time
by
Mets averaging 2.9 percent of homes in NY area; Yanks are 2.3

Yankees ratings hurt by ongoing dispute with Comcast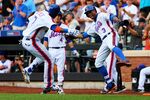 The New York Mets are the baseball kings of New York, at least according to local television ratings.
At Major League Baseball's All-Star break, Mets ratings on SportsNet New York were higher than Yankees ratings on the YES Network for the first time since SNY's debut in 2006.
The Mets, who lost to the Kansas City Royals in a five-game World Series last season, claim 2.91 percent of homes in the New York area, compared to 2.28 for the Yankees, according to SNY. Mets games on SNY top Yankees games on YES in average number of viewers, 278,078 to 219,205.
Part of the reason for the dip in Yankees ratings is the ongoing dispute between the network, which is majority-owned by Rupert Murdoch's 21st Century Fox Inc., and Comcast Corp., which has kept the team's games out of about 900,000 homes, about 65 percent of which are in the official New York TV market.
SNY, which is owned by a joint venture of the Mets, Charter Communications and Comcast, says the Mets are drawing more female fans than they have since 2010. An average of 78,330 women are watching games this year, up 48 percent over last year.
The Mets are 47-41 this season, second in the National League East and six games behind the Washington Nationals. The Yankees are 44-44, fourth in their division and 7-1/2 games behind the Baltimore Orioles.
Before it's here, it's on the Bloomberg Terminal.
LEARN MORE