May Puts Brexiters in Firing Line as Cameron Allies Pushed Out
by , , and
Government structure rebuilt to reflect focus on leaving EU

Osborne, Gove, Morgan gone; Greening and Truss promoted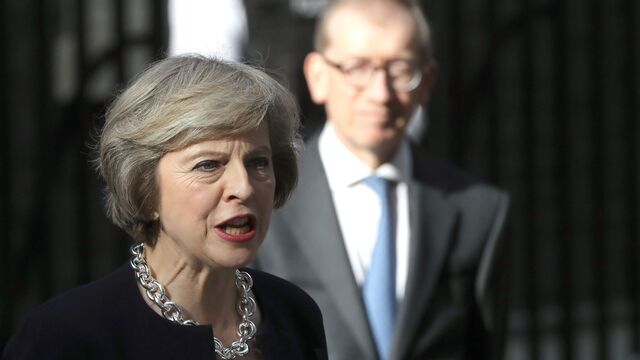 Prime Minister Theresa May put Euroskeptics in senior jobs in the departments most likely to be affected by Britain's withdrawal from the European Union, as she assembled a government to guide Britain's economy through its biggest upheaval since World War II.
Allies of her predecessor David Cameron were fired, starting with Chancellor of the Exchequer George Osborne, and leading advocates of Britain's withdrawal from the bloc in last month's referendum were promoted, including David Davis as Brexit Secretary and Boris Johnson as Foreign Secretary. Liam Fox was put in charge of international trade, while May handed the job of telling farmers their nearly 3 billion pounds ($4 billion) in EU subsidies are to be cut to her former leadership rival Andrea Leadsom.
"It could be a masterstroke," said Andrew Russell, professor of politics at Manchester University. "She's got three big Brexiters doing international trade, foreign office and the new 'leaving the EU' department. If that goes well, she will be credited for putting an effective team together and if it goes badly, the blame will fall to the Brexiters for not having a plan."
In a reflection of how much Brexit will dominate the government, there are two new departments, one for EU negotiations and one for international trade. The Departments of Energy and Business have been merged, with former Business Secretary Sajid Javid moving sideways to become Communities Secretary.
"What we're seeing, particularly with the appointments today, is the commitment of the prime minister to putting social reform at the heart of her government," May's spokeswoman, Helen Bower, told reporters. "This is a bold cabinet that's hitting the ground running."
Business, Energy, Industry
Lawmakers who campaigned for a "Remain" vote in the referendum were also promoted, with Justine Greening taking on education, Liz Truss the Department of Justice -- becoming the first woman to be Lord Chancellor -- and Greg Clark becoming secretary of state at a newly combined department for business, energy and industrial strategy.
David Gauke, the long-suffering Financial Secretary to the Treasury, who stood in for Osborne whenever the former chancellor wanted to avoid awkward questions in Parliament, was promoted to Chief Secretary to the Treasury.
New Chancellor of the Exchequer Philip Hammond toured television and radio studios on Thursday saying that he will take "whatever measures" are needed to stabilize the British economy, and also met with Bank of England Governor Mark Carney. The bank left the key interest rate at a record low 0.5 percent on Thursday and signaled it's readying stimulus for August.
Justice Secretary Michael Gove, Education Secretary Nicky Morgan and Culture Secretary John Whittingdale were fired, while Stephen Crabb -- who Cameron had promoted to the works and pensions brief shortly before the referendum -- quit, saying he wanted to spend more time with his family.
"The risk of having some big casualties for this reshuffle is she's got some
pretty big beasts on the backbenches now, and that's a pretty big risk, but a
calculated one," said Russell.
Before it's here, it's on the Bloomberg Terminal.
LEARN MORE