Kaine Rallies for Clinton With VP Deliberation Near Final Stage
By and
As Democrat mulls running mate, contenders get chance to shine

Virginia senator calls Clinton the 'you're hired' candidate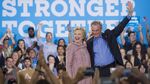 Virginia Senator Tim Kaine told voters they have a choice between a "you're-fired" president in Republican Donald Trump and a "you're-hired" president in Hillary Clinton, in a joint appearance with the presumptive Democratic nominee widely seen as an audition to be her running mate.
As Trump prepared for a Friday announcement of his running mate, with most signs pointed toward Indiana Governor Mike Pence, Clinton enters the closing phase of her own search to choose the man or woman she thinks can best help her win the November election and govern alongside her. She hasn't yet made a decision, according to an adviser familiar with the process who wasn't authorized to speak publicly about it.
Kaine on Thursday cast the November election as a three-part decision between a selfish cynic in Trump and an optimistic realist in Clinton.
"Do you want a you're-fired president or a you're-hired president?" he said, re-purposing a line from Trump's reality TV show, "The Apprentice." "Do you want a trash-talker president or a bridge-builder president? Do you want a me-first president or a kids-and-families president?" he asked the crowd gathered at Northern Virginia Community College's Annandale campus.
'Giant Job Interview'
The Washington suburb, which has a significant Korean-American population, is an example of Virginia's growth and increasing diversity that's helped deliver the once solidly Republican state to Democrats in the last two presidential elections. Barack Obama won Virginia over Mitt Romney by almost 4 percentage points in 2012.
"I really loved what Tim said," Clinton told the audience, and praised his experience as a senator, governor, and mayor in an important swing state.
"You really are conducting a giant job interview," Clinton told the audience. She meant voters' deliberations on choosing the next president, but they also are helping her to conduct her own search for a No. 2.
How the U.S. Elects Its Presidents: QuickTake
Smiling and deferential to the presumptive nominee on stage, Kaine presented himself less as an attack dog in going after Trump than as an affable voice of reason, although he allowed that Trump's desire to be commander-in-chief while criticizing the U.S. military really gets him "steamed."
The two appeared at ease with each other and exchanged fist bumps when Clinton finished speaking.
Obama Ally
Kaine is among list of possible contenders that also include Massachusetts Senator Elizabeth Warren, Agriculture Secretary Tom Vilsack, Labor Secretary Tom Perez, Housing Secretary Julian Castro, and other elected officials and Obama administration appointees.
Kaine is a close political ally of President Obama who backed the then-senator over Clinton in the 2008 primary and was a serious contender for the vice presidency in 2008 before Obama tapped Joe Biden.
He's considered to be among those at the top of Clinton's list, although his prior support for Obama may work against him given the high value the Clintons have traditionally placed on loyalty. Kaine's credentials include experience as a governor and senator, fluency in Spanish, deep knowledge of foreign policy, and appeal to voter groups -- white males and independents -- where Clinton is weakest.
Trial Runs
The upcoming party nominating conventions have served as deadlines for both presumptive nominees to round out their tickets. Republicans will meet next week in Cleveland; Democrats gather the following week in Philadelphia.
Much of Clinton's formal vetting to select a running mate has unfolded outside the public eye, including private sit-downs with prospective partners and research into any professional or personal missteps that could be disqualifying.
Her campaign also has been taking advantage of prospective running mates' willingness to appear as surrogates or warm-up acts for Clinton at campaign events, or on Sunday news shows and in other television interviews. Perez, for example, has appeared on a Sunday show for three consecutive weeks.
Electrifying Warren
That's allowed Clinton to give the impression of casting a wide net -- women as well as men, blacks and Hispanics as well as whites, and those with geographic, foreign policy, or other niche appeals.
More importantly, these have served both as tryouts of sorts -- tests of charisma, knowledge of policy, attack-dog skills, and compatibility with Clinton.
Warren's electrifying joint appearance with Clinton on June 27 commanded the campaign's attention, even as her scheduled speaking slot early during the Philadelphia convention has driven speculation she won't be the pick. Meanwhile, talk about Ohio Senator Sherrod Brown, who's delivered opening remarks for Clinton, has declined over time.
New Jersey Senator Cory Booker's advocacy for Clinton also drew attention earlier this year. Another consideration in choosing a senator for a running mate is whether they hail from a state with a Republican governor, as do Brown, Warren and Booker -- but not Kaine.
'Host of People'
Each appearance by Castro, Perez or Representative Xavier Becerra of California has fed buzz about their prospects. And Clinton's recent hour-long meeting with Colorado Governor John Hickenlooper during her visit to the state included a brief discussion of her vice presidential search, by his own account.
"The speculation on the Democratic side has a whole host of people that could potentially do this job, and for the last several weeks it's been a lot of folks on the Republican side who don't want to be on the vice presidential" ballot with Trump, Vilsack, a former Iowa governor and longtime Clinton ally also seen as a prospective running mate, said in an interview Wednesday with MSNBC.
Clinton indicated in a June interview with CBS that as she considers her choices, she is more focused on governance than the election. "My most important criterion is, who can be president?" Clinton said. "Who's ready to be president?" She said she has a "unique perspective" on the difficulties of the job, having been a first lady and secretary of state. "I'm going to be looking first and foremost as to who I believe could fulfill the responsibilities of being president."
Shaping a Message
Joel Goldstein, a St. Louis University law professor and scholar of the vice presidency, said while vice presidents tend to have more impact in terms of governance than in deciding elections, a bad pick can hurt the candidate. "Some elections are decided at the margins, and who the pick is can send important messages about presidential candidates and help shape their image," he said.
The choice of Warren, for example, might signal that Clinton is a "bold, dynamic leader willing to make a choice that is unconventional" and serve as "a more extreme version of Bill Clinton picking Al Gore" in 1992, Goldstein said. By contrast, someone like Kaine or Vilsack would signal a safer, more moderate message and might be perceived as "an effort in part to narrow the gender gap with white men."
Clinton has the advantage of being able to take Trump's choice, and its implications, into account in her own final decision. "Part of the context that's sometimes relevant is, who's on the other side's ticket?" Goldstein said.
Before it's here, it's on the Bloomberg Terminal.
LEARN MORE