JPMorgan Says U.S. Consumer Is Strong, Profit Tops Estimates
By
Brexit impact seen as limited for U.S. economy, CFO says

Demand for loans was broad-based in the second quarter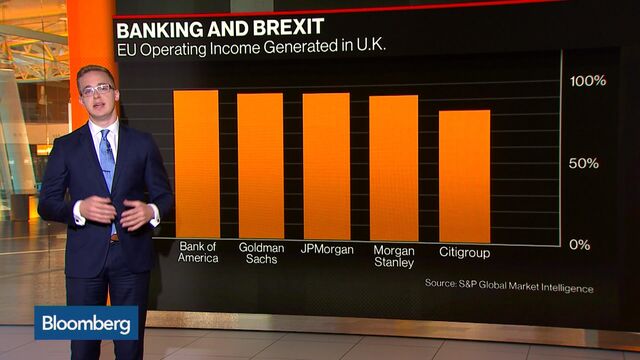 Brexit, be darned: The U.S. consumer is doing just fine, according to JPMorgan Chase & Co., and that bodes well for the economy even as Europe is buffeted by political turmoil after the U.K.'s historic referendum last month.
Britain's vote to leave the European Union was a "political and economic challenge that will take time to resolve, but not a financial crisis, and the impact on global growth and the U.S. economy should be small," Chief Financial Officer Marianne Lake said Thursday in a call with reporters, after JPMorgan reported a second-quarter profit that beat analysts' estimates. "We had broad-based demand for loans pretty much across categories, whether it was auto, business banking, cards, so I would say that speaks well for the U.S. economy and the consumer in particular."
The referendum sparked concern that U.S. companies would be hurt by a stronger dollar and reduced overseas demand. Instead, equity markets rose to records amid resilient employment figures and bets that central banks would stimulate markets. While the vote happened at the end of the second quarter, JPMorgan's comments support the idea that Brexit wasn't a so-called black swan event that will derail global economic growth.
JPMorgan, the first big U.S. bank to post results for the quarter ended June 30, rose 1.5 percent to $64.12 at 4 p.m. in New York. Shares of other financial firms also climbed, with the 24-company KBW Bank Index advancing 1.7 percent. Goldman Sachs Group Inc., which reports earnings on Tuesday, added 2.9 percent, leading the Dow Jones Industrial Average.
Net Income
JPMorgan, led by Chief Executive Officer Jamie Dimon, also posted revenue that beat estimates as it extended $106 billion more in loans than a year earlier, backing up the firm's belief in the durability of the world's biggest economy. That 16 percent loan growth and 35 percent gain in revenue from fixed-income trading fueled JPMorgan's results, with total revenue climbing 2.8 percent to $25.2 billion. The firm cited strength in rates, currencies, emerging markets, credit and securitized products.
When asked about the outlook for trading revenue, Lake said it was "fine" in July and would probably decline as it typically does during the summer. While uncertainty and market volatility can suppress investment-banking activities like merger advice and equity issuance, there are still active boardroom discussions around acquisitions, Lake said.
Charles Peabody, an analyst at Portales Partners LLC, questioned whether the improvement in the second quarter is sustainable.
"The success can last for a quarter or a two, but I think it's still going to be a very difficult year," Peabody said in an interview on Bloomberg Television. "I'm still expecting earnings to be down year-over-year."
Legal Bills
Net income slid to $6.2 billion, or $1.55 a share, from $6.29 billion, or $1.54, a year earlier. The average estimate of analysts surveyed by Bloomberg was for earnings of $1.43 a share.
Non-interest expenses fell 6 percent to $13.6 billion on cost cutting and lower legal bills, the New York-based bank said. That compared with analysts' $14 billion estimate. Provision for credit losses was $1.4 billion, rising $467 million from a year earlier. The increase reflected growth in the loan portfolio, not a deterioration in credit quality, Lake said. Return on equity, a measure of profitability, dropped to 10 percent in the second quarter from 11 percent a year earlier.
Earnings at the corporate and investment bank, run by Daniel Pinto, climbed 6.5 percent to $2.49 billion as revenue rose 5.1 percent. Markets revenue, which includes bond and stock trading, climbed 23 percent. In June, Pinto said that trading revenue in the quarter was headed for a mid-teens percentage increase from a year earlier on strength in fixed income, especially rates trading. Compensation at the unit dropped 6 percent in the first six months, to $5.34 billion.
Profit from consumer and community banking, run by Gordon Smith, rose 4.9 percent to $2.66 billion on strength in mortgages. Revenue was $11.5 billion, up 4 percent from the second quarter of 2015.
"They're looking out, saying there are some global growth concerns, but U.S. employment remains good, consumers have deleveraged," said Shannon Stemm, an analyst at Edward Jones & Co. in St. Louis. "Credit still looks good, and until they see reason to slow down, they'll continue to extend more of it."