Hollande Calls Barroso's Goldman Sachs Job Morally Unacceptable
by
French leader adds to criticism of move in Portugal, EU

Barroso led European Commission, was Portugal's prime minister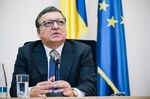 Jose Manuel Barroso's decision to join Goldman Sachs Group Inc. is "morally unacceptable," French President Francois Hollande said, adding to criticism of the former European Commission president's decision to work for the U.S. investment bank.
Hollande, asked about Barroso during his annual Bastille Day television interview on Thursday, said Goldman Sachs was implicated in the financial crisis that began with U.S. sub-prime mortgages and in helping Greece cover up its debt.
"And we find out several years later that Mr. Barroso will join Goldman Sachs," Hollande said. "It's legally possible but it's morally unacceptable."
The New York-based bank said on July 8 that Barroso, who headed the European Commission from 2004 until 2014, will serve as non-executive chairman of its international unit and help advise on international issues. Those could include the fallout from Britain's vote to leave the European Union. Barroso, 60, was prime minister of Portugal prior to his EU role.
European Commissioner Pierre Moscovici, a former French finance minister, said Barroso's decision was "bad for the image" of the commission. French European Affairs Minister Harlem Desir said Wednesday it was "morally, politically and ethically a mistake." Gianni Pittella, head of the Socialist Group in the European Parliament, said it was "deplorable from a political and moral point of view."
In Portugal, the Socialist Party said Barroso led the EU's executive arm during "the worst years of the European project" and his "prize" was to join a company that's the main cause of "the destruction of social rights in the European Union." His own Social Democratic Party said it saw "no issue," while the EU has said Barroso's move doesn't violate its ethics rules.
London Banks
Goldman Sachs is among the biggest U.S. banks struggling with the repercussions of Brexit, which has sent the pound plunging to its lowest in decades, roiled property markets and touched off political instability. The ability of London-based banks to operate freely throughout the EU will be up for negotiation over the next few years, with other cities in Europe, including Paris, likely to vie for some of the thousands of banking jobs now in London. Goldman employs about 6,000 people in London and along with most other international banks supported the "Remain" camp in the June 23 referendum.
"Jose Manuel Barroso joined as Chairman of Goldman Sachs International, he will also help advise our clients in Europe and around the world on a range of issues," Sebastian Howell, the company's executive director for media relations, said Thursday in an e-mailed comment. "That decision had nothing to do with the outcome of the Brexit vote. Indeed, we began our discussions at a time when the prevailing view was that the Remain campaign would succeed, an outcome we would have preferred and publicly supported."
Not Alone
Over the years, the firm has drawn the nickname "Government Sachs" because of senior executives who moved into public posts around the world. Robert Rubin, another former Goldman Sachs chief, was U.S. treasury secretary under President Bill Clinton. Bank of England Governor Mark Carney, European Central Bank President Mario Draghi and Federal Reserve Bank of New York President William Dudley are among company alumni who went on to set monetary policy.
Draghi has said he had nothing to do with currency swaps arranged by Goldman Sachs that helped Greece hide the extent of its budget deficit before the country sought emergency help from its European partners.
Goldman isn't the only institution to hire former and future leaders. Former British Prime Minister Tony Blair is a "senior adviser" to JPMorgan Chase & Co. and former German Chancellor Gerhard Schroeder is chairman of the shareholders board at OAO Gazprom-led pipeline project North Stream AG. Schroeder once called President Vladimir Putin a "flawless democrat" and has advocated ending EU economic sanctions on Russia backed by his successor, Angela Merkel.
Eckart von Klaeden caused a stir in 2013 when he moved from Merkel's chancellery directly to Mercedes carmaker Daimler AG, where he's vice president for external affairs. His transition from government minister to corporate lobbyist prompted an investigation by Berlin prosecutors, who found no wrongdoing.
Before it's here, it's on the Bloomberg Terminal.
LEARN MORE