Hammond Pledges 'Whatever Measures' Needed for U.K. Economy
by and
New chancellor of the exchequer met with Carney Thursday

Hammond says Brexit 'rattled confidence,' no emergency budget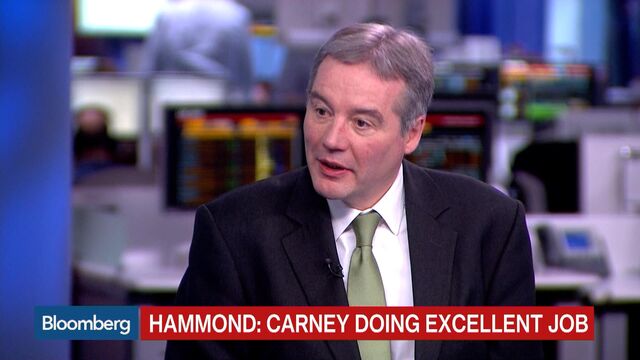 Philip Hammond, the U.K.'s newly appointed chancellor of the exchequer, said that the vote to leave the European Union had "rattled confidence" and he will take "whatever measures" needed to shore up the British economy.
"The number one challenge is to stabilize the economy, send signals of confidence about the future, the plans we have for the future to the markets, to business, to international investors," Hammond said in a Sky News interview on Thursday.

Hammond's comments came ahead of the Bank of England's surprise decision to hold the key interest rate at 0.5 percent, while signaling it was readying stimulus for August. Officials are seeking to avert further turmoil after the pound plunged and consumer confidence dropped to a 21-year low as the U.K. prepares to navigate a split from its biggest trading partner.
The chancellor, who was set to meet with Bank of England governor Mark Carney on Thursday morning "to make an assessment of where the economy is," said in a BBC TV interview that Carney was doing "an excellent job."
Business Uncertainty
Hammond was appointed in place of George Osborne by the U.K.'s new prime minister, Theresa May. In what may be an early attempt to place blame for a slowing economy with his pro-Brexit colleagues, Hammond said that the prospect of EU negotiations was hurting confidence. "If there's one thing that is damaging our economy right now, it is uncertainty for businesses," he told the BBC.
Hammond said he was confident that London's financial district would weather Brexit. "In the short term the City of London is highly resilient," he told the BBC. "It is a very complex web of markets and supporting industries, legal services, business services. It isn't so easy for anywhere else to set itself up as a credible alternative to the density of financial services and support services in the City of London."
However, he urged newly-appointed Brexit Secretary David Davis to secure as much access to EU markets as possible. "We've got to make sure in our negotiations with the European Union we have very clearly in our minds the need to ensure access to EU single market for our financial services industries in London," he said. "This is not only in London's interest; it's in the interest of the EU as well."
Hammond, who was the U.K.'s foreign minister from 2014, would not comment on his predecessor's plan to cut the corporate tax rate to 15 percent and ruled out delivering an emergency budget. He said he'd deliver an autumn statement "in the normal way."
Giving an early indication of his economic priorities as chancellor, Hammond told LBC London radio that big transport infrastructure projects passing through northern cities would be "key," and talked of the need to "spread the prosperity across the nation."
Weak Demand
Prior to his time in government, as part of Cameron's finance team in opposition, Hammond played a part in crafting Osborne's austerity plan, leading to speculation among economists he may be more of a fiscal hawk than May.
"As a best guess, we will likely see a compromise," said Kallum Pickering, an economist at Berenberg Bank. "Looser fiscal policy in the near term while demand is weak with the major cuts pushed to the back of the forecast when economic growth is likely to improve."
Hammond signaled that deficit reduction may be less of a priority. "We've got to reduce the deficit further," he said. "But looking at how and when and at what pace we do that, and how we measure our progress in doing that, is something we now have to consider in light of the new circumstances the economy is facing."
Before it's here, it's on the Bloomberg Terminal.
LEARN MORE