Further Violence May Threaten South Sudan's Capital, UN Says
by
Government's death toll may be 'tip of iceberg,' Ladsous says

Global body may reassess, strengthen mandate for UN mission
The United Nations peacekeeping chief said the situation in South Sudan remains "fluid and uncertain" following days of fighting in the capital between forces loyal to the country's leader and his deputy that claimed more than 270 lives.
Clashes erupted in Juba on July 7 between President Salva Kiir and Vice President Riek Machar's forces and continued sporadically until Monday, when both declared a cease-fire. The deputy's troops say they've withdrawn from the city and are urging the UN mission to step in and separate the two sides.
Opposition forces are said to be scattered around the areas of Jebel and Yei road, near the capital, while Kiir's forces have set up defensive positions on a major thoroughfare, the UN said. "Further clashes, therefore, cannot be ruled out," Under-Secretary-General for Peacekeeping Operations Herve Ladsous said on Wednesday.
Addressing the Security Council in New York, Ladsous said a decision must be taken quickly whether to strengthen the mandate of the body's South Sudan mission. It follows a proposal by Secretary-General Ban Ki-moon that the mission be given further support to allow better protection of civilians.
South Sudan, which marked its fifth anniversary of independence from Sudan on Saturday, has been ruled by the transitional government since April, after Kiir and Machar agreed to work together to end the civil war that began in December 2013 and left tens of thousands dead. That conflict cut oil production in the country, which has sub-Saharan Africa's third-biggest crude reserves, by at least a third to as little as 120,000 barrels per day.
'Alarming Reports'
While South Sudan's government has given a death toll for the weekend's fighting of at least 272, including 33 civilians, Ladsous said he's "convinced, however, that this is only the tip of the iceberg, given alarming reports over the last few days indicating that civilians were barred from safer grounds, including UN compounds."
Fighting also occurred in Central Equatoria and Eastern Equatoria states on July 11, Ladsous said, expressing concern over the potential for bloodshed in other parts of the country.
Clashes in Leer county, part of oil-rich Unity state, on Wednesday have forced about 350 civilians to seek UN protection, acting mission spokeswoman Shantal Persaud said by phone from Juba. South Sudan army spokesman Lul Ruai Koang said by text message that he had no information about the incident. Unity hasn't pumped crude since shortly after the civil war began in late 2013.
About 42,000 civilians have been displaced by the violence in Juba, Ban's spokesman, Stephane Dujarric, said Wednesday in an e-mailed statement. Two South Sudanese reporters have been killed in Juba since Sunday, Oliver Modi, chairman of the country's journalists' union, said by phone from the city.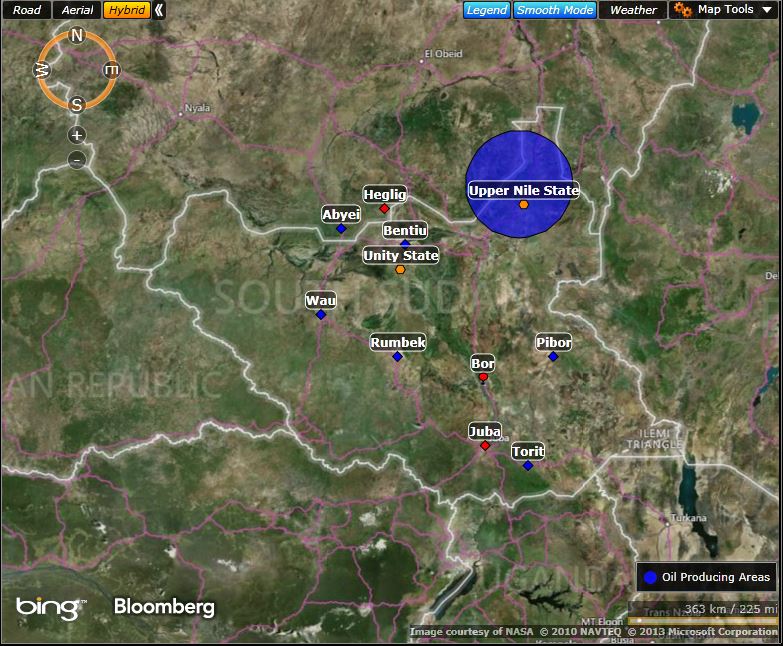 Before it's here, it's on the Bloomberg Terminal.
LEARN MORE