BlackRock's Fink Says Rally in Equities May Not Be Justified
By
Corporate earnings have fallen in five quarters, he tells CNBC

BlackRock earnings fell 3.7% as investors shifted to bonds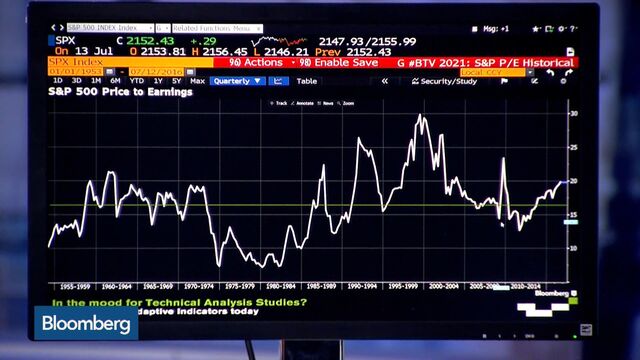 Laurence D. Fink, who runs the world's largest asset manager as chief executive officer of BlackRock Inc., said the current rally in equities may not be justified and won't last unless earnings pick up.
"If we don't see better-than-anticipated corporate earnings I think the rally will be shortlived," Fink, 63, said in an interview Thursday.
Corporate earnings have declined for five quarters, and retail investors have been pulling out of stocks, Fink said earlier on CNBC. Britain's vote to leave the European Union will probably send that country into a recession, he said.
Fink, whose firm cut about 3 percent of its workforce earlier this year, has said the Brexit vote will weaken global economic growth and makes another rate increase by the Federal Reserve unlikely this year. BlackRock on Thursday reported a 3.7 percent decline in second-quarter earnings as clients shifted money from stocks to lower-fee fixed income and cash investments.
"Our clients are facing unprecedented challenges as they attempt to navigate the current investment environment," Fink said in the firm's earnings statement. "Political and macroeconomic uncertainty, historically low yields and elevated market volatility are leading clients to pause, as evidenced by more than $55 trillion in bank deposits in the U.S., China and Japan alone."
The Brexit vote added to a number of events that fueled financial market volatility this year, such as the selloff in oil in the first quarter and concern about China's economy. Global equities lost $2.5 trillion in market value on June 24, the day after the British vote, only to recoup most of the losses when central banks signaled they were ready to support markets.
Stock Rally
U.S. stocks rose to extend all-time highs Thursday, with the S&P 500 Index adding 0.5 percent to 2,163.69 at 4 p.m. in New York, closing at a record for a fourth straight day. BlackRock's shares fell 0.6 percent, curbing gains this year to 4.3 percent.
If corporate earnings rise this quarter, that may validate the current rally, Fink said on CNBC.
BlackRock is the first big U.S. money manager to report second-quarter earnings. Net income in the three months through June declined to $789 million, or $4.73 a share, from $819 million, or $4.84, a year earlier. Adjusted earnings of $4.78 a share beat the $4.77 average estimate by 16 analysts surveyed by Bloomberg.
Revenue Falls
BlackRock's revenue fell 3.5 percent to $2.8 billion from the second quarter of 2015. Performance fees declined 46 percent to $74 million, and base fees decreased 1.8 percent to $2.49 billion. Investment advisory, administration fees and securities lending revenue were impacted by a shift from equities to fixed income and cash.
Fink has predicted consolidation in the asset management industry as firms have difficulty beating their benchmarks and a new Labor Department rule will benefit passive strategies. In addition to BlackRock, Pacific Investment Management Co. and Grantham Mayo Van Otterloo & Co. have cut jobs this year.
BlackRock has been able to benefit from the shift toward passive investing, because it is the largest provider of exchange traded funds. Clients added a net $1.5 billion in long-term assets during the quarter, led by $10 billion in inflows into the firm's fixed income ETFs. Retail clients pulled $6.3 billion, including $4.9 billion from equities.
Assets under management increased to $4.9 trillion from $4.7 trillion at the end of March.