Fast Retailing Feels Japan's Brexit Sting With Strong Yen
by and
Company cuts profit forecast on strong yen as sales rise

Stronger yen eroded Uniqlo-owner's earnings from overseas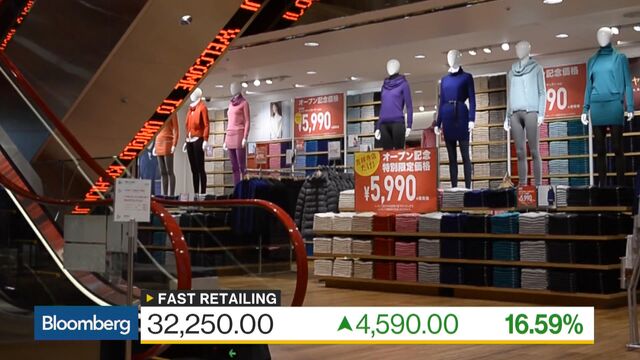 Billionaire Tadashi Yanai's Fast Retailing Co. gave an early glimpse of the pain a rising yen is bringing to Japan's biggest companies since the U.K. voted to leave the European Union last month.
The company's shares jumped 15 percent, the most since October 2009, after Asia's largest clothing retailer posted third-quarter sales and operating income that beat analyst estimates. Still, Fast Retailing cut its full-year net income forecast by 25 percent for the year ending August due to an estimated 37 billion yen ($350 million) in foreign exchange loss, it said Thursday.
The stock rose to as high as 31,770 yen in Tokyo trading Friday.

Fast Retailing's forecast hit comes amid concern that potentially slowing growth in Europe will weigh on Japanese profits and undermine Prime Minister Shinzo Abe's effort to end deflation and spur expansion. Earnings at 200 of Japan's largest companies would drop about 3.6 percent in the fiscal year, Daiwa Securities Group Inc. estimates, based on the yen averaging 100 against the dollar.
"Brexit is negative for Japanese exporters and companies whose overseas sales ratio is high, like Fast Retailing, because of the stronger yen," said Mitsushige Akino, a Tokyo-based executive officer at Ichiyoshi Asset Management Co. "There may be more companies becoming cautious about forecasting full-year earnings."
Read a Gadfly column on the impact of a stronger yen on Japanese corporations here.
Fast Retailing's business operations improved despite the forecast cut, said Chief Financial Officer Takeshi Okazaki at a Tokyo briefing Thursday. The company's forecast is based on an exchange rate of 114.3 yen per dollar for the fiscal year, he said. That compares with a company projection in April of 120.5 yen per dollar.
The company's revised forecast comes as the yen slid against the dollar this week and investors wait for the details of Abe's stimulus plans. The yen is headed for its biggest weekly drop since 1999, trading at 105.17 per dollar at 8:57 a.m. local time.
"The advance of the yen isn't having much impact on our business itself," he said. "No matter what level it's at, I hope the yen will be stable."
Okazaki said the company will need to review its distribution across Europe, but the company won't make substantial changes to its business plan there.
Pain Spreading
The pain of a rising yen post-Brexit is spreading among Japanese companies. Asahi Glass Co., which sells glass for construction and automobiles, said Thursday that preliminary first-half sales are below forecast due to a strong yen.
Last week, Aeon Co., the nation's biggest retailer by sales, reported its worst first quarter in eight years -- a 6.3 billion yen loss. Japanese consumers' anxiety about the future spurred by the market turmoil and a stronger yen weighed on Aeon's earnings, said Executive Vice President Akinori Yamashita.
Since the June 23 Brexit vote, profit estimates for Nissan Motor Co. and Canon Inc. were also cut by analysts on the stronger yen.
To read about the rising yen's effect on Japanese profit outlook, click here.
Fast Retailing's forecast cut adds pressure on the company as ChairmanYanai pledged to reach his goal of 5 trillion yen sales by 2020 and turn Asia's biggest clothing retailer into a world leader. Net income will probably be 45 billion yen for the year ending August, down from the 60 billion yen forecast it gave in April, the company said Thursday. The company left its forecasts for operating income and revenue unchanged.
Amid stagnant consumption in Japan, the billionaire has adjusted his pricing strategy with a promise to offer the "lowest possible price." The company's shift to a lower price strategy is in the right direction and one Fast Retailing intends to stick to, said Okazaki.
Revenue gained 6 percent to 423 billion yen in the quarter. For the nine months ended May, sales at Uniqlo Japan rose 1.1 percent and overseas sales for the brand jumped 10.6 percent, according to the company. Fast Retailing's quarterly revenue recovered on warm weather in March as the company saw higher average spending.
"We aren't pessimistic about our business," Okazaki said. "We believe there's always demand for good things, so it's important to offer good products at affordable prices."
Read Bloomberg Intelligence's analysis of economy's impact on sales.
Operating income for the third quarter beat estimates, rising 19 percent from a year ago as Uniqlo e-commerce sales jumped 41 percent in Japan. Still, the company expects full-year operating profit to fall about 27 percent to 120 billion yen from a year ago.
A stronger yen impacts the value of Fast Retailing's repatriated earnings from overseas and its foreign-currency denominated assets, while lowering import material costs. The previous trend of yen weakening spurred by Abe's campaign to stimulate the economy had prompted Fast Retailing to raise prices for the brand's fall and winter clothes due to higher fabric costs last year.
A fluctuating yen could prove tricky for the company, said Naoki Fujiwara, chief fund manager at Shinkin Asset Management Co. in Tokyo.
"It's more desirable to have a stable foreign exchange rate for the company to plan production and supply," he said. "Unexpected volatility is a risk."
The company's shares fell 1.7 percent to 27,660 yen at the close in Tokyo trading before the results were released. The Topix gained 0.8 percent.
Before it's here, it's on the Bloomberg Terminal.
LEARN MORE