United Fined as 'Chairman's Flight' Snags Allies of Christie
by and
Ex-Port Authority chairman admits to accepting a bribe

United to pay $2.25 million as ex-lobbyist is charged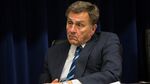 A close ally of New Jersey Governor Chris Christie pleaded guilty and a second Christie appointee was charged as the state's top federal prosecutor laid out a scheme of bribery and favor-trading with one of the biggest U.S. airlines.
David Samson, a Christie appointee who was chairman of the Port Authority of New York and New Jersey from 2011 to 2014, admitted Thursday he withheld funding and approvals sought by United Airlines. The airline then agreed to restore a money-losing route convenient to Samson's weekend home in South Carolina, according to documents filed in federal court in Newark.
United Continental Holdings Inc., which operated the route between Newark Liberty International Airport and the South Carolina airport, agreed to pay a $2.25 million penalty and cooperate with the U.S. Attorney in New Jersey.
Jamie Fox, a United lobbyist at the time, was charged on Thursday in a separate criminal complaint with bribery conspiracy stemming from Samson's request for the route to Columbia Metropolitan Airport, which became known as "the chairman's flight." Fox was later appointed by Christie to be his state's commissioner of transportation.
The plea and new charges against the Christie allies -- two of the state's most powerful political insiders over more than a decade -- could reverberate through the presidential campaign of Donald Trump, where Christie has taken on a prominent role. Samson was a member of Christie's inner circle and chaired the governor's transition team in 2009. Now, Christie is Trump's transition chief and a potential Trump pick for a cabinet position or even vice president. Trump is expected to announce his choice of running mate on Friday.
Brian Murray, a spokesman for Christie, declined to comment about Samson's plea or how it might impact the governor's work with Trump.
Confidence Shaken
Three other former Christie allies have been charged for their suspected roles in creating traffic jams near the George Washington Bridge in 2013 to punish a local Democratic mayor who didn't back the governor's re-election. The investigation into the Port Authority's participation in that incident, known as "Bridgegate," led prosecutors to evidence that Samson had pressured United into scheduling the flight.
"This kind of case shakes public confidence in our institutions of government when people who are so accomplished, and who have occupied so many positions of public trust, misuse their authority to get something for themselves," U.S. Attorney Paul Fishman said in a statement after the guilty plea. "It's a betrayal of our trust and what we have the right to expect from those in public life."
The scandal has also ensnared Jeff Smisek, United's then-chief executive officer, and two other company executives, who resigned last September after an internal investigation. Fishman declined to comment in relation to individuals at United.
Prosecutors said United improved its ethics and compliance office, according to a statement by the carrier. Fishman said the government agreed to a non-prosecution agreement with the airline, which cooperated with the investigation.
"Continuing to earn and keep the trust of our employees, customers, shareholders, and the communities we serve around the world remains critical to our success," United Chief Executive Officer Oscar Munoz said in the statement.
United spokeswoman Megan McCarthy had no additional comment on the agreement or a separate probe into the same matter brought by the Securities and Exchange Commission, which was disclosed in a February filing.
Vetted and Appropriate
Samson faces as long as two years in prison. His sentencing is scheduled for Oct. 20. His lawyer, Michael Chertoff, declined to say whether Samson would cooperate and declined to discuss the case. When approached by a reporter in a courthouse elevator his only response was: "The next you're going to hear from us will be at sentencing."
Fox's attorney, Michael Critchley, said his client has served the public and his clients with honor and believed any arrangement between Samson and United managers had been vetted and was appropriate. "Anyone who knows Jamie knows that he would never jeopardize his reputation by engaging in the behavior alleged in the complaint," Critchley said.
Samson, a Republican, was attorney general under Governor Jim McGreevey, a Democrat. He became linked with Christie in 2003, when Christie was a federal prosecutor and both men emerged on a hit list by a chapter of the Latin Kings street gang in Newark.
As governor, Christie conferred with Samson on a wide range of legal, political and transportation issues, and Samson's law firm reaped a wide assortment of lucrative legal and consulting contracts from state agencies and authorities.
Dinner Request
Samson, 76, had pressed United to restart the twice-weekly flights between Newark Liberty and Columbia Metropolitan at a September 2011 dinner at an Italian restaurant in Manhattan and then escalated his efforts for months via e-mail, according to the charging documents presented in court on Thursday. At the time, United was seeking millions of dollars in investments from the authority, which runs the Newark airport.
To read about the dinner proposal that ensnared United in the New Jersey corruption investigation, click here.
Details of the negotiations for the flight, previously disclosed by Bloomberg News, were spelled out in court papers Thursday. In November 2011, after the airline balked at adding the route, Fox wrote to Samson about the airline's request to build a new wide-body hangar, including $10 million in public money, a project on the Port Authority agenda. "Maybe it needs further review!!!!!" Fox wrote, according to prosecutors.
Samson replied that he'd pulled United's request from consideration. "Yes, it's already off this month's agenda: I hate myself," he told Fox, according to prosecutors.
About a month later, e-mails show that Fox, who had discussed the South Carolina flight with United, told Samson to put the hangar project back on the agenda. The Port Authority approved the project the next week, and within months United began scheduling the South Carolina flight.
Hangar Approved
Two weeks after the flights resumed in September 2012, the Port Authority approved the hangar plan. Samson stepped down as chairman in March 2014, and the flights stopped several days later. Samson flew that route 27 times between October 2012 and January 2014, Samson told the judge on Thursday.
The Port Authority said in a written statement that it was fully cooperating. "Following today's plea, we will continue to move forward with the reforms that have been adopted and embraced by all members of the Port Authority and its leadership," the statement said.
Before it's here, it's on the Bloomberg Terminal.
LEARN MORE