China Investors Pile Into Staples, Airlines as Floods Take Toll
by
Materials and consumer staples best performing sectors in July

Flooding to accelerate fixed asset investment in second half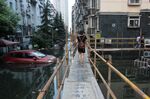 China's worst flooding since 1998 has investors piling into shares of meat producers, airline operators and cement manufacturers as heavy rainfall continues to sweep across the country.
A gauge of consumer staples jumped 9.2 percent since the beginning of July, compared with a 3.9 percent gain for the benchmark CSI 300 Index, as flood waters inundated central China's Yangtze River region, home to the country's major rice, pig and fish farming areas. 
Anhui Conch led cement makers, climbing 8.8 percent month-to-date. Airlines also jumped, with a key gauge rising 8.9 percent this month as flood waters swept over several railway lines and collapsed bridges.
"The market is pricing in expectation that the flood may worsen. I see rally of staples, airlines, construction firms to sustain as investors expect solid earnings outlook due to the floods," says Linus Yip a strategist at First Shanghai Securities.
Supply shortages and widespread disruption to logistics networks as a result of the devastation will likely lead to short term price increases in key food and commodity items, analysts say, and will require a massive rebuilding effort that could boost construction-related sectors over the medium term.
Best Performing 
Materials and consumer staples are the two best performing sector on the CSI 300 Index this month. The flooding highlighted the "shortcomings of urban construction," China International Capital Corp. analyst Wang Hanfeng says. The cost to the wider Chinese economy will be limited and the market can expect to see more policy support and accelerated investment into utility tunnels and urban drainage systems in the second half of the year, Wang said.
China Southern Airlines is among the top performing stocks on the CSI 300 Index this month, soaring 19 percent in Shanghai, as analysts expect air demand to rise as ground routes remain severed by flood waters.
Summer Rains

Summer flood seasons along the Yangtze River have been known to last into September. Chen Min, director of the Office of the Yangtze River Flood Control and Drought Relief Headquarters was reported by Xinhua News Agency saying flood waters had so far submerged more than 4.1 million hectares of crops, and 222 people were either killed or missing.
Flooding only worsened over the weekend after torrential downpours from Typhoon Nepartak affected more than 49 million people, Xinhua reported.
In 1998 when China was hit with the worst flooding in four decades, reconstruction efforts may have helped accelerate fixed asset investment growth in the second half of that year, said Wang.
Not everyone is forecasting demand to pick up. Credit Suisse expects post summer demand for cement and steel to rise only one to two percent because of the flooding. The bank's economist Weishen Deng wrote that expenditure may rise to a "meaningful level" if the flood intensifies.
Before it's here, it's on the Bloomberg Terminal.
LEARN MORE