Brazil's New Lower House Speaker Seen Helping Temer's Agenda
by and
More than a dozen candidates vied for the job to replace Cunha

New speaker is ally of acting president, critic of Rousseff
An ally of Acting President Michel Temer won the election to become Brazil's new lower house speaker, raising expectations that the interim government will succeed in passing unpopular belt-tightening measures through Congress.
Rodrigo Maia of the Democrats party, who strongly opposed suspended President Dilma Rousseff, won the election with 285 votes in a runoff on Thursday, according to the lower house's news agency. Rogerio Rosso, a member of the Social Democrats Party that is allied with the government, had 170 votes.

More than a dozen candidates vied for the job, which entails setting the chamber's legislative agenda and presiding over its votes. The speaker also takes over the country's presidency in the absence of Temer, who is 75.
While Rosso had the advantage of unifying some of the smaller parties that support Temer, Maia's victory was welcomed by the presidential palace, according to a government official who asked not to be named because the information isn't public. Temer's least-preferred candidate among the top contenders was Marcelo Castro, who finished in third place. Despite coming from the acting president's own Brazilian Democratic Movement Party, Castro served as Rousseff's health minister and voted against her impeachment.
"Maia is aligned with the need to adjust public finances," analysts with Brazilian consulting firm MCM wrote in a note to clients. "The government will have an important ally in the lower house to pass its reform agenda."
Many investors were upbeat about his victory. The Brazilian real rose 1 percent to 3.23 per U.S. dollar at 12:40 p.m. local time.
Fiscal Troubles
Maia's election comes at a tumultuous period in Brazilian politics. Former speaker Eduardo Cunha's involvement in a corruption probe polarized lawmakers and sullied the reputation of a Congress where dozens of legislators face accusations of graft. Cunha, who led the push to impeach Rousseff, stepped down last week while professing his innocence.
For a detailed look at Brazil's economic woes, click here.
Maia will be instrumental in approving Temer's measures to revive investor confidence, including unpopular proposals to trim social security payouts and cap government spending. The new speaker told reporters on Thursday he will prioritize legislation to revive the economy and clean up the political process. He also pledged to keep the ruling coalition together, as Rousseff's allies step up criticism of the new government.
"Let's work together to keep the base united," he said.
While the new speaker's term will expire in January 2017, he will preside over votes that Finance Minister Henrique Meirelles says are crucial to shrinking a near-record budget deficit and attracting investors to the recession-battered economy. The lower house must decide whether to amend the constitution to contain public spending, and is expected to vote this year whether to allow companies other than state-run Petrobras to operate offshore oilfields in the so-called pre-salt region.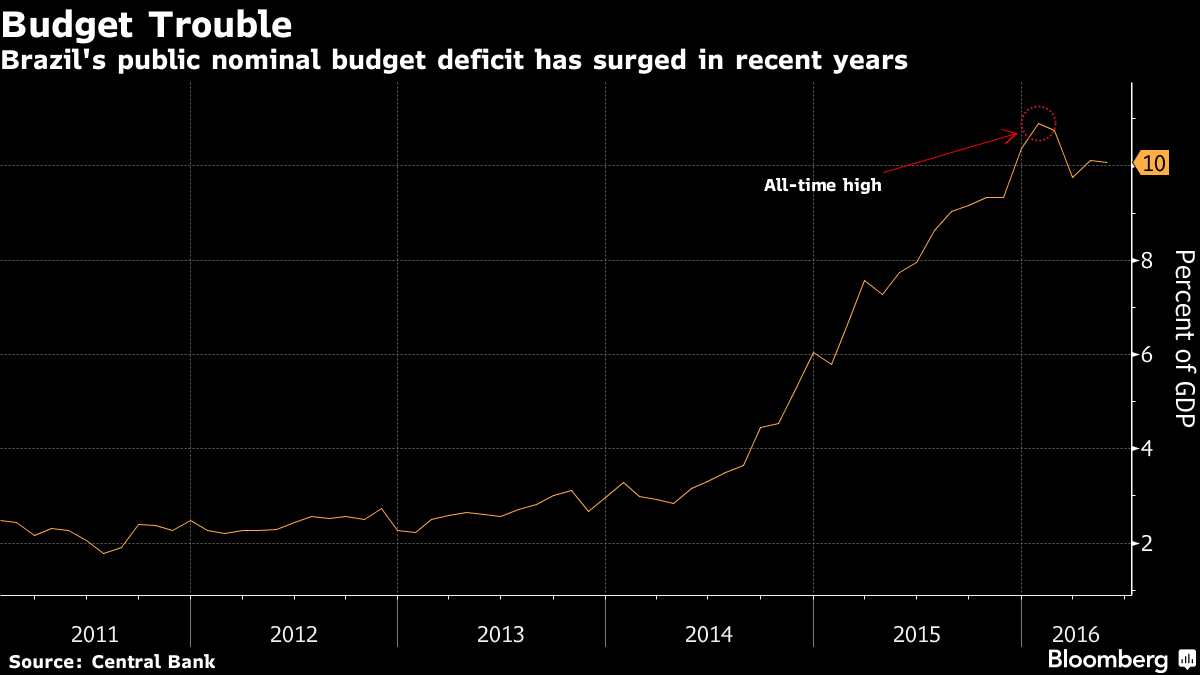 "This is a critical moment for the government," said Paulo Calmon, a political science professor at the University of Brasilia. "Temer needs to start delivering reforms."
Before it's here, it's on the Bloomberg Terminal.
LEARN MORE