Australia Economy Adds Jobs as Full-Time Employment Rebounds
by
Some 7,900 jobs filled in June, slightly less than forecast

Full-time roles surge after little change in previous month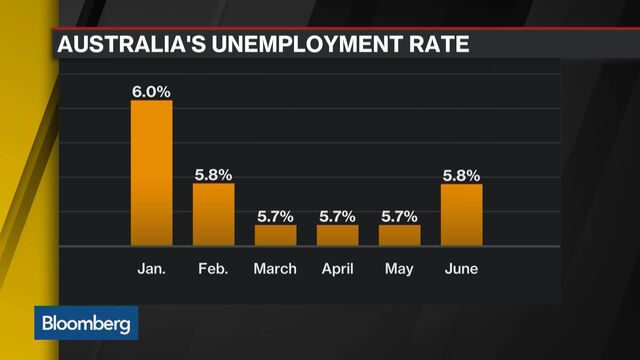 Australia added jobs in June, led by a rebound in full-time employment as record-low interest rates and stronger business confidence boosted hiring. The currency rose.
Employment rose 7,900 from May; economists forecast 10,000 gain
Jobless rate rose to 5.8% from 5.7%; matching economist estimates
Full-time jobs jumped by 38,400; part-time employment fell by 30,600
Participation rate, a measure of labor force as a share of population, rose to 64.9 percent from 64.8%; economists predicted 64.8%

The report underscores an economy showing greater domestic strength with industries like construction, tourism and education helping Australia soak up unemployed miners as a resource boom winds down. Still, the outlook for business investment remains weak and a rebounding currency -- up more than 5 percent since the start of June -- risks the competitiveness of the country's service industries.
"There was a bit of a rebound in full-time employment, which is nice because that sector had been quite weak in prior months. But I'm not sure there's anything in these data that tell us a meaningful message about the labor market, and particularly so heading into the August RBA board meeting," said Sally Auld, head of fixed-income and currency strategy for Australia at JPMorgan Chase & Co. "That means inflation is still the key story."

The currency rose after Thursday's report showed a rebound in full-time roles in June, compared with just 2,500 new positions recorded in the previous month's data. The Australian dollar traded at 76.30 U.S. cents at 12:09 p.m. in Sydney, from 76.02 cents before the data was released.
Traders are pricing in a better than 50 percent chance of a rate cut in August, little changed from prior to Thursday's jobs report, according to swaps data compiled by Bloomberg.
Accommodative monetary and fiscal policy settings have assisted with the economy's adjustment from mining, including a rate cut in May. The Reserve Bank of Australia held the benchmark cash rate at 1.75 percent this month.
Some economists were also expecting this month's survey to be impacted by a rotation in the population survey sampled.
Before it's here, it's on the Bloomberg Terminal.
LEARN MORE