U.S. Stocks Halt Rally as Dollar Gains; Turkish Lira Tumbles
by and
Bonds pare losses, yen gains as Turkey army says takes power

S&P 500 ends five-day rally, slips from record highs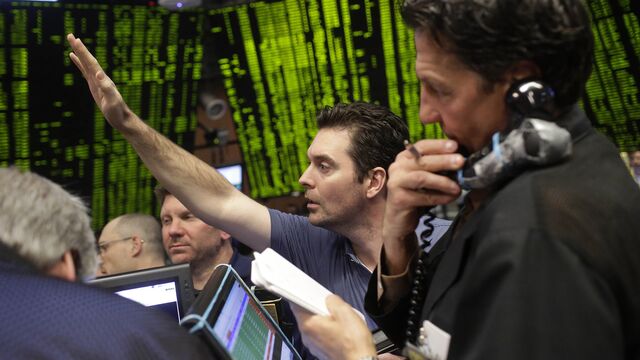 The S&P 500 Index halted a five-day rally that took it to a record, while the dollar rose and Treasuries had the biggest weekly drop in a year as data boosted optimism in the economy.
News after the close of U.S. equities markets that Turkey's army had seized power stoked demand for haven assets. The nation's lira plunged more than 4 percent, while the yen strengthened and Treasuries pared losses. Futures on the S&P 500 slid 0.4 percent before closing at 5 p.m. in New York, while the risk premium on the Markit CDX North America Investment Grade Index, a measure of credit default swaps of company bonds, jumped 2.1 percent.
Scenes From Turkey as Army Attempts to Seize Control
"I don't think this is likely to result in a major change in the assessment of risk in the global markets," Jeffrey Kleintop, chief global investment strategist at Charles Schwab & Co., said by phone.

The S&P 500 slipped after ending at a record four straight days amid a three-week rally that's added more than 8 percent. European equities ended a winning streak amid a deadly terror attack in Nice. Emerging-market shares climbed a seventh day to the highest since November. The yield on the 10-year Treasury note pushed gains in the five days to 23 basis points after touching a record low on July 6.
About $4.6 trillion has been added to the value of global equities since June 27 as the U.S. economy outperforms projections and policy makers signal they will take steps to limit the fallout from the U.K. secession vote. Data Friday showed gains in the consumer and manufacturing sectors, and add to signs the economy is gaining traction after a blowout jobs report a week ago. The improving growth prospects help to bolster the case for the Federal Reserve to raise interest rates some time this year, with traders pricing in higher odds of a hike Friday after the figures were released.
At the same time, the earnings season got off to a promising start, with JPMorgan Chase & Co. and Alcoa Inc. exceeding estimates. Citigroup rose Friday after profit beat analysts' estimates. The terror incident in France contributed to the end of an equity rally in Europe, as travel and leisure shares bore the brunt of losses. The impact of past terror incidents on financial markets has typically proved short-lived.
"Global markets have managed a very impressive week," Yousef Abbasi, global market strategist at JonesTrading Institutional Services LLC in New York, said by phone. "We got overall better-than-expected data which has created a little bit of a bond market selloff and gave equities a bit of a lift." 
Stocks
The S&P 500 fell 0.1 percent to 2,161.53 at 4 p.m. in New York, halting a four-day string of record closes. The index climbed 1.5 percent in the past five days. The Dow Jones Industrial Average rose 0.1 percent to an all-time high.
Wells Fargo & Co. dropped after the bank's quarterly profits fell. Amazon.com Inc. sank for a fourth day, the longest in four months. Health-care shares climbed as drug developers rallied, with Biogen Inc. and Celgene Corp. rising at least 2.1 percent.
"The market has been very strong since a few days after Brexit -- it's just a little profit taking," said Thomas Garcia, head of equity trading at Thornburg Investment Management Inc. in Santa Fe, New Mexico. "We are up 8 percent off the lows in a very short period of time, maybe this is just a little positioning."

The Stoxx Europe 600 Index fell 0.2 percent. The gauge is still heading for a weekly gain of 3 percent on optimism major central banks will step up support to the economy.
The MSCI Emerging Markets Index rose 0.2 percent, extending the weekly advance to 4.6 percent, the most in four months. China's economic growth was 6.7 percent in the second quarter, beating the 6.6 percent expansion forecast in a Bloomberg survey of economists. Figures for factory output, retail sales and new lending also topped estimates, while investment slowed.
Currencies
The Bloomberg Dollar Spot Index advanced 0.4 percent, as the currency snapped a three-day decline. The dollar gained 0.4 percent to $1.1074 per euro and was 0.5 percent higher at 105.92 yen.
The pound declined Friday, paring a weekly rally to 1.9 percent spurred by the appointment of Theresa May as Prime Minister.
Bonds
The brightening economic outlook pushed Treasuries lower this week, three weeks after the U.K.'s vote to leave the European Union sparked a flight to safety that pushed developed-nation bond yields to record lows.
The benchmark 10-year note yield rose six basis points to 1.60 percent, the highest in three weeks, according to Bloomberg Bond Trader data. The yield rose 19 basis points this week, the largest weekly jump since June 2015.
Commodities
Crude oil futures rose 0.6 percent to settle at $45.95 a barrel in New York. Exxon Mobil Corp. declared force majeure on shipments of Nigeria's biggest crude export grade. West Texas Intermediate posted a 1.2 percent gain for the week.
Gold futures fell 0.4 percent to settle at $1,327.40 an ounce in New York. Bullion capped a 2.3 percent slide in the five days as investors turned to risk assets such as stocks.
Zinc advanced to the highest level in 13 months, while copper headed for the biggest weekly increase since March after China data bolstered the outlook for demand. The London Metal Exchange Index of six base metals rose for the fifth day on Thursday to the highest since October.
Before it's here, it's on the Bloomberg Terminal.
LEARN MORE