A $35 Billion Pension Bomb Shows Who Really Has Power in Poland
by and
Party leader Jaroslaw Kaczynski pulls the strings in Warsaw

His gambit is that Poland is too big for Europe to resist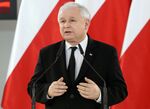 It took up less than a minute of a one-hour speech, but led to an unexpectedly busy weekend for the Polish Ministry of Development in Warsaw.
At the governing Law & Justice Party's congress on the first Saturday of this month, leader Jaroslaw Kaczynski spelled out his vision for the country. He mentioned briefly that Poland should do more with the money parked in its retirement funds. At Kaczynski's ministry of choice for economic policy, senior officials swiftly rounded up colleagues to work through Sunday so that at 8:30 a.m. the next day -- before financial markets opened -- an overhaul of the $35 billion pension industry could be unveiled.
Investment companies were incredulous and the stock market dropped, though it came as little surprise to the people close to the real power in Poland. Kaczynski, 67, holds no office beyond his role as lawmaker -- he's not the prime minister, president and doesn't even run a department. His drumbeat of mistrust for both Russia and western Europe, the them-and-us attacks on Poland's post-communist elite and his courting of the Catholic church give him enough of a devoted following that he needs no title.
"Politically, he's a sort of commander in chief or a first secretary we knew from the times of communism," said Marek Migalski, a political scientist at Silesian University in Katowice. A former Law & Justice lawmaker in the European Parliament, he was ostracized by the party for criticizing Kaczynski in 2010. "I'd say that for his supporters, he's even more than Moses. It's not just a notion that Kaczynski is doing only good things, it's the conviction that things that are done by Kaczynski are good." 
New Elite
Kaczynski was prime minister from 2006 to 2007 before a miscalculation on early elections cost him his job and put Law & Justice in opposition for eight years. His twin, Lech, then died in a plane crash in Russia in 2010 when serving as Poland's president, leaving Jaroslaw convinced of a conspiracy against them.
So he picked Beata Szydlo, 53, the daughter of a miner, to front the latest crusade to dismantle the elite and build a new one, settling some old scores and rewriting some of Poland's modern history in the process.
"He has both the experience of being a premier and a much longer one of being a neck that moves the head that makes formal decisions," said Danuta Przywara, who was in the political underground movement with Kaczynski during communism and used to move from apartment to apartment with him to evade the authorities. "It's clear that the latter suits him better."

Since the landslide victory in October, Law & Justice installed its own people as chief executives in all but one of the biggest state-owned companies, the judiciary, in the media, at universities and even running a horse-breeding farm. Regulatory and personnel changes at the tribunal overseeing the constitution triggered the European Union's first-ever probe into whether a member state's government is backsliding on rule of law. It could lead to Poland losing its voting rights in the 28-country alliance.
Too Big to Fail
Kaczynski's gambit is that Poland, a $475 billion economy between Germany and Russia as well as a NATO bulwark, is too big to fail and neither side can afford to break the ties, said Roman Backer, a political scientist at the University of Torun. 
"Kaczynski knows this and he's running down the clock, waiting and not backing off an inch in his plan to be a sole author of laws," said Backer. Neither Kaczynski's office nor Law & Justice's spokeswoman were available for comment. 
The government has also tried to change the narrative of the fight against communism after documents were released in February purporting to show former president and Solidarity leader Lech Walesa was an agent paid by the regime. He dismissed the claims, but it reminded Poland of Kaczynski's unfinished business.
"With time, his drive for conflict has deepened," said Zbigniew Janas, who was in Solidarity and has known Kaczynski since early 1980s. "It could be his age or maybe the tragic experiences of losing a brother and ensuing loneliness, reinforced by years of being politically side-lined that built his sense of injustice."
For a QuickTake explainer on Poland's new political order, click here
The kind of power that Kaczynski wields from an ordinary row-house in a leafy Warsaw district has been a long time coming for a man more used to the political shadows.
Unmarried and without even a driver's license, he and brother Lech were child acting stars in Poland before training as lawyers and starting underground political activities in 1970s. Neither was as prominent in the Solidarity movement as Walesa. Kaczynski later joined the Helsinki Committee, a group that in 1983 compiled the first report on human-rights abuses under the communist regime.
Divergent Paths
Following the collapse of the regime, the dissidents entered parliament in 1989 and paths started to diverge. After supporting Walesa in a bitter 1990 presidential campaign, Kaczynski quit as an aide and founded his own party that year. It eventually morphed into Law & Justice in 2001 before winning power for two years in 2005.
After Kaczynski gambled and lost the 2007 election, Poland went through an unprecedented period of political stability as its economy, which isn't as indebted as many places in the euro region, was the only one in the EU to avoid recession during the global financial crisis.

But continued emigration and widening income inequality offered Kaczynski an opportunity. Fighting next door in Ukraine, imperial posturing by Russia and the refugee crisis let Law & Justice reinforce its message of insecurity. As the standoff with the EU over democratic rule hardened in recent weeks, Kaczynski and his allies painted Brussels as an exterior force threatening Poland.
"Redirecting the geopolitical views of Poles is the biggest crime of Poland's present rulers," said Ludwik Dorn, one of Law & Justice's founding members and a minister in Kaczynski's cabinet before falling out and resigning in 2007.
Back to Work
For now, Kaczynski essentially can do what he wants.
The pension legislation means that at least a quarter of the assets in privately managed funds will be overseen by the state and used for government projects. Deputy Prime Minister Mateusz Morawiecki spelled out the plan's details at a July 4 press conference after it was all quickly hammered out, according to a high-ranking administrator who took part in the preparations. The person asked not to be named because the information isn't public.
This week, Kaczynski told the Rzeczpospolita newspaper on Monday that worsening opinion about Poland abroad is "a very serious problem" and the government should be much more efficient in defending its image.
Two days later, Treasury Minister Dawid Jackiewicz, flanked by the chiefs of 17 state-owned companies, announced the creation of a foundation to promote Poland abroad. "Poland is being hurt by false stereotypes and unfair treatment," Jackiewicz said on Wednesday. "A foundation must be set at lightning speed."
Before it's here, it's on the Bloomberg Terminal.
LEARN MORE