Zimbabwe Court Frees Pastor Charged With Trying to Oust State
by and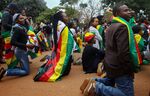 A magistrate in Zimbabwe set free Bapist pastor Evan Mawarire, who had been charged with trying to overthrow President Robert Mugabe's government.
"It is my finding that the National Prosecuting Authority cannot charge the accused," Judge Vakai Chikwekwe said in a court in the capital, Harare. "I hereby refuse to put him on remand."
The authorities changed the original charge against the 39-year-old preacher, who was arrested Tuesday, from inciting public violence to "subverting a constitutional government." He was facing the possibility of 20 years in jail, Mawarire's lawyer, Harrison Nkomo, told Chikwekwe. More than a thousand of Mawarire supporters, draped in Zimbabwean flags, held a candle-lit vigil outside the court.
Mawarire has posted regular videos on Facebook calling for non-violent protest against corruption, police brutality, poverty and the introduction of a local currency, planned for October. Mugabe's administration has faced mounting public unrest as a cash shortage has undermined the government's ability to pay its workers and consumers' access to funds to pay their bills.
Before it's here, it's on the Bloomberg Terminal.
LEARN MORE