Wetherspoon Head Schools Goldman in Brexit Economics
By
Tim Martin says business has seen uplift since EU vote

Corrects story to remove David Ross, who didn't back Brexit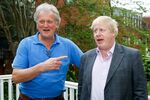 Goldman Sachs and Morgan Stanley don't understand economics. Nor do the Bank of England or the U.K. Treasury. At least according to Tim Martin, the pro-Brexit founder of British pub chain JD Wetherspoon Plc.
Martin, a vocal supporter of Britain's vote to leave the European Union, said individuals and institutions also including the Confederation of British Industry, the International Monetary Fund and outgoing Prime Minister David Cameron were practicing "irresponsible doom-mongering" in warning that a vote for Brexit would negatively impact the U.K. economy. The pub chain's performance has improved since the vote, he said.

"The above individuals and organizations are either dishonest, or they have a poor understanding of economics, since democracy and prosperity are closely linked and the EU is clearly undemocratic," Martin said in a statement Wednesday. "In spite of the dire warnings above, Wetherspoon trade strengthened slightly in recent weeks."
Martin's criticism contrasts with a report released by consultancy Begbies Traynor that said U.K. pubs are in a "dire state" as Brexit will exacerbate the financial pressure of the country's higher minimum wage, unseasonable weather and England's premature exit from the Euro 2016 soccer tournament. The number of bars going out of business rose 53 percent to 831 in the second quarter. Rooney Anand, chief executive officer of pub company Greene King Plc, has said Brexit is likely to affect consumer confidence.
Spokesmen for Goldman Sachs and Morgan Stanley declined to comment.
Beating Drum
Martin was one of the most vocal U.K. business leaders to back the Brexit campaign, joining former HSBC Holdings Plc CEO Michael Geoghegan. Martin, who founded the pub chain known for its low prices in 1979, went so far as to distribute 200,000 beer mats in pubs arguing for a Brexit, which read "Why should we trust the IMF?"

The recent business boost prompted Wetherspoon to forecast "modestly improved" results for the full year. It comes as a gauge of business sentiment in the U.K. has fallen to the lowest in more than four years, the Bank of England mulls cutting interest rates, and European staff in the hospitality industry are uncertain about their future employment. Immigration has so far been an economic benefit, but the country cannot accommodate more workers, Martin said in an earlier interview.
The company had previously said it anticipated a trading performance similar to or slightly above 2015, when it reported revenue growth of 7.4 percent to 1.52 billion pounds ($2.02 billion). The shares rose 2.6 percent to 761.5 pence at 1:02 p.m. in London, boosting the value of Martin's 29 percent stake to about 255 million pounds.
(
Corrects story published July 13 to remove erroneous reference to David Ross backing Brexit in sixth paragraph.
)
Before it's here, it's on the Bloomberg Terminal.
LEARN MORE