Brexit Bounce Making History as Stock Gain Closes on $2 Trillion
By and
Energy producers slip from eight-month high as crude tumbles

Equities close little changed, S&P 500 extends all-time high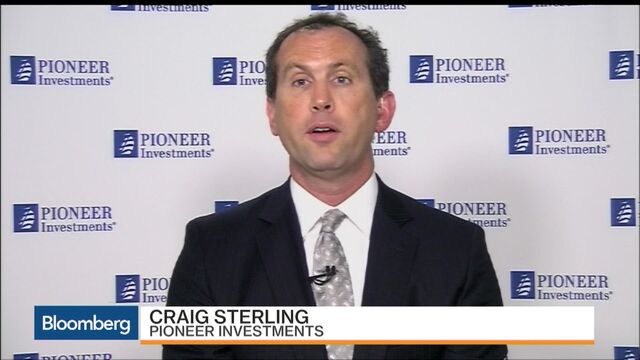 The rebound in U.S. stocks from their post-Brexit selloff is starting to take on historic dimensions.
The S&P 500 Index edged higher Wednesday to climb in nine of the last 11 days, shaking off a 5.3 percent plunge following the U.K. vote to add almost $2 trillion to U.S. share prices since June 27. It's an expansion that while burnished by the market's already-high level, also ranks among the biggest increases in equity value ever.
Stars are aligning for investors as a strong string of economic data combines with optimism over earnings and speculation the Federal Reserve will hold off raising rates. Not everything is rosy -- gains in 2016 are still being led by defensive stocks rather than those tied to economic growth -- but the push has still been enough to shatter a 13-month-old record and push the S&P 500 past Wall Street predictions.
Bears who say the rally reflects nothing but expectations for more stimulus face a nagging truth: the surge that lifted stocks 7.6 percent in 11 days has occurred as economic data mostly beat forecasts. A Citigroup Inc. gauge that tracks the degree to which reported numbers are exceeding economist projections has jumped to the highest level since January 2015.
"It's both. The economy is a little better than people thought, especially post-Brexit as we're getting some early indicators," Jeff Kleintop, chief global investment strategist at Charles Schwab & Co., said by phone. "At the same time, central banks remain completely committed to providing easy financial conditions."

The S&P 500 rose less than 0.1 percent Wednesday to 2,152.43 at 4 p.m. in New York, after holding in a narrow range to close at a record for a third day. The Dow Jones Industrial Average added 24.45 points, or 0.1 percent, to 18,372.12, following its first all-time closing high in more than 13 months. The Nasdaq Composite Index fell 0.3 percent from its best level this year. About 6.5 billion shares traded hands on U.S. exchanges, 10 percent below the three-month average.
Energy shares retreated today from their highest level in eight months as crude fell 4.4 percent. Government data showed U.S. fuel inventories unexpectedly grew, adding to concerns about oversupply. Banks declined for the first time in six days to halt their longest winning streak in three months. Phone companies, utilities and consumer staples were the best performers among the S&P 500's 10 main industries as investors gravitated back toward more defensive stocks.
The CBOE Volatility Index fell 3.8 percent to 13.04, the lowest in almost 11 months. The measure of market turbulence known as the VIX is down nearly 17 percent in July after rising 10 percent in June.
"You may see people profit-taking ahead of financial earnings, since we've had such a nice run over the last week and a half," said Stephen Carl, principal and head equity trader at Williams Capital Group LP. "If any situation occurs, whether it's corporate earnings or something political going awry, that could exacerbate a decline."
Last week, better-than-forecast reports on payrolls and service industries brightened the economic outlook. Odds of a 2016 Fed rate increase all but vanished after minutes of the central bank's June meeting signaled policy makers saw less need to tighten any time soon. Since then wagers have crept back up after the jobs data and the fresh records for equities. Traders see a 32 percent chance of higher borrowing costs by December, compared to 12 percent a week ago.
In its Beige Book survey of regional activity released today, the Fed said the economy expanded at a modest pace since mid-May amid "slight" price pressures and some softening in consumer spending.
On Tuesday, investors looking to corporate America for the next leg higher got an encouraging sign. Alcoa Inc. surged 5.4 percent after posting late Monday a profit that beat analysts' estimates, the aluminum company's biggest post-earnings gain in two years. JPMorgan Chase & Co., Citigroup Inc. and BlackRock Inc. will also report results this week.
For more than a year, investors have been unnerved by retreating quarterly profits in the S&P 500, a streak that is poised to match the longest earnings retreat on record. But measured by its depth, the retreat looks less dour. Net income in the gauge is down 18 percent from its 2014 high -- a retreat that is less than half of the size of the last three drops and pales next to the 28 percent average in recessions since 1936.
Receding concerns over a U.S. economic slowdown have also restored a more recognizable order to the rally. While defensive stocks remain the biggest gainers of the year, the last 10 days have seen companies most sensitive to moves in the economy take the market higher. Industrial, consumer-discretionary and financial companies posted the largest gains, while utilities and consumer-staples makers lagged.
To be sure, much of the positive economic data has covered periods before the U.K. vote, and nobody is predicting a decisive turn in U.S. gross domestic product. Last month, the International Monetary Fund slashed its forecast for American growth. At the same time, valuations remain at the high end of the current bull market's range, perhaps in a testament to investor faith that earnings will rebound.
A scarcity of income generating assets and a collapse in bond yields has helped push U.S. equities higher. With Treasury yields low, investors don't need a lot of encouragement to buy shares. That calculus, a concept known as the equity risk premium, might have accounted for 90 percent of the recent rally, Dominic Konstam, global head of rates research at Deutsche Bank AG, wrote in a note to clients Friday.
"Traditionally risk comes out greater in equities, but with yields as low as they are today, we'd have to think that maybe the risk premium is reflecting a transitional period," John Stoltzfus, chief market strategist at Oppenheimer & Co. in New York, said by phone. "Going forward, most of the increase in the price of the S&P will have to come from multiple expansion as earnings remain challenged."
Underpinning the bull case, stock valuations are still more attractive when viewed next to some of the lowest bond payouts ever. Plotting the index's per-share earnings against the yield on the 10-year Treasury note, a technique sometimes referred to as the Fed Model, shows the S&P 500 is still significantly less expensive.
"The attractiveness of the equity market is really enhanced here with low interest rates, improvements in the housing market and the job market," Stoltzfus said. "It may not be rock and roll, but it's good enough for the market to grind higher here."
Before it's here, it's on the Bloomberg Terminal.
LEARN MORE