U.S. ELECTION WRAP: Anti-Wall Street Talk May Just Be Starting
By and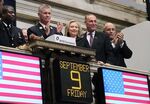 If Wall Street expected that anti-big bank rhetoric would wane now that the primary fights are (presumably) over -- as Bernie Sanders aligns with Hillary Clinton, and Donald Trump is likely to defeat last-ditch efforts to derail his nomination -- it may be disappointed, according to at least one analyst.
"Both presidential campaigns will be tripping over themselves to capture the populist wind, which suggests that Wall Street is going to be a top talking point through November," Compass Point analyst Isaac Boltansky said
On who markets prefer -- Clinton or Trump -- the answer is less clear

"This election has everyone off balance," Boltansky said in an interview. "If we operate under the assumption that markets like certainty, then Clinton is preferable."
"It is difficult, at least at this stage, to distinguish between Trump's rhetoric as compared to his actual policies if he ends up taking the White House"

Mark Calabria, head of financial regulation studies at Cato Institute, has a different view on how prominently big banks will be featured on the stump

"I suspect the Democrats will mostly turn away from Wall Street issues as the campaign moves forward, although Clinton will have to rebut Trump's expected criticisms of her Wall Street speeches and past support," Calabria said
He noted that Sanders yesterday, in endorsing Clinton, didn't focus much on Wall Street

KBW analyst Brian Gardner says investors shouldn't be "too concerned" that inclusion of a financial transaction-tax proposal in the Democratic Party platform will help speed its way into law, as party platforms often are "quickly forgotten and have little impact on policy," Bloomberg's Rachel Layne reports

Click here to subscribe to the U.S. Election Wrap



VEEPSTAKES
Trump VP speculation frenzy is reaching its climax amid a flurry of various meetings and last-minute flights to Ind., where the core Trump camp hunkered down for part of the day
Trump is conflicted over whether to choose N.J. Gov. Chris Christie or Indiana Gov. Mike Pence, CNN's Dana Bash reports, citing a single unidentified source

The presumptive GOP nominee's daily schedule included a visit to Pence's residence, with children Donald Trump Jr. and Ivanka Trump in tow, Bloomberg reports
Trump at a rally last night in the Hoosier state teased a possible Pence pick, according to Bloomberg's Kevin Cirilli
Former House Speaker Newt Gingrich, also considered a running-mate contender, asked to meet with Trump in Indianapolis, CNN says

Meanwhile, Trump advisers made their way to Ind. to meet with him amid internal divisions over who should get the VP prize, Politico reports

Aides were increasingly convinced Trump was moving away from choosing Pence after a positive meeting on Monday with Christie, according to an unidentified person with direct knowledge of the matter

Those who headed to Ind. included Sen. Jeff Sessions of Ala., a staunch Trump ally

CNN noted that advisers have been known to become the running mate, as was the case with George W. Bush's pick of Dick Cheney in 2000
Trump is expected to unveil his choice by Friday

Virginia Sen. Tim Kaine would be a "steady VP pick" for Clinton, AP writes

Kaine is set to join Clinton on the campaign trail tomorrow in Virginia

ON THE TRAIL
Clinton spoke today at the Old State Capitol in Springfield, Ill., where Abraham Lincoln delivered his "house divided" speech and Barack Obama kicked off his White House bid in 2007

Clinton used the backdrop to contrast the Republican Party of Lincoln with the "Party of Trump"
"That's not just a huge loss for our democracy, it's a threat to it"

Clinton also called for racial tolerance and, citing a rise in drug addiction and suicides, spoke of a general "sense of dislocation" and "pessimism" among many Americans about whether the country "still holds anything for them or cares about them at all"

POLLS
A barrage of polling focused on swing states painted a mixed -- and in the case of Pa., contradictory -- picture

Clinton and Trump are tied in Ohio at 39% each, while the former sec. of state has a 9-ppt lead in Pa., 45% to 36%, according to newly released NBC News/Wall Street Journal/Marist polls
In Iowa, Clinton leads 42%-39%

Polls conducted July 5-10; error margins +/- 3.4 ppts in each state
A Quinnipiac University poll shows Clinton trailing Trump by in 3 ppts in Fla. and 2 ppts in Pa., while a tie persists in Ohio
Clinton holds a 13-ppt lead over Trump, 48%-35%, in a Monmouth University poll of likely voters in the swing state of Colo.; she also leads her GOP rival in Wis., 43%-37%, according to a Marquette Law School Poll
The former secretary of state has a 3-ppt lead over Trump in a national head-to-head match-up, according to a McClatchy-Marist poll

CONVENTIONS
Wall Street Journal outlines how Trump's nomination could still be stopped as GOP foes attempt to clear the way for a different nominee by changing convention rules
Washington Post also lays out scenario of what may happen with the "Never Trump" movement

Republican Natl Convention begins July 18 in Cleveland

The convention is struggling with a $6 million funding shortfall, USA Today reports; organizers had goal of raising $64 million for the 4-day gathering
Sen. Tom Cotton of Ark. tells MSNBC he will speak in Cleveland
Sen. Ted Cruz of Texas will make an extra trip to Cleveland to meet with conservative leaders ahead of the convention, Politico reports, citing people familiar with his plans
See NBC's list of RNC speakers known so far

ETC
Trump is calling for Supreme Court Justice Ruth Bader Ginsburg to resign after she called him a "faker," Bloomberg's Greg Stohr reports

Ginsburg was wrong to criticize Trump, New York Times editorial board writes 

If elected, Clinton would probably not use a currency manipulation label against China, Height Securities analysts Stefanie Miller and Peter Cohn write

CONGRESSIONAL
CO-SEN: Democratic incumbent Michael Bennet leads his GOP challenger, Darryl Glenn, 48%-35%, according to Monmouth University poll
FL-SEN: Developer Carlos Beruff's campaign releases TV ad tying himself to Trump and drawing contrasts between presumptive Republican nominee and GOP Sen. Marco Rubio on immigration policy, including temporary ban on immigrants from some Middle East nations

"I do support Trump, and I'll help him secure our borders," Beruff said in ad
Trump knocked Rubio out of presidential race in March with 46%-27% win in Fla. primary
Beruff said "quitting is not part of my DNA," according to National Review profile of only major Republican candidate who remained in Aug. 30 primary after Rubio decided to seek re-election
Rubio has "personally criticized" Beruff's political donation to Charlie Crist in June 2009, when Crist was the Republican governor and the heavy early favorite against Rubio in 2010 Senate race

Crist has since become Democrat, is seeking party's nomination in Fla.'s 13th CD
IN-SEN: Democratic ex-Sen. Evan Bayh formally announced Senate campaign today, promising to "put progress ahead of partisanship and to earn the support of Hoosiers so that we can get back to getting things done for Indiana," according to campaign statement

Bayh, seeking political comeback in GOP-leaning state, said he supports balanced-budget constitutional amendment
Bayh, who served in Senate from 1999 to 2011, will face Republican Rep. Todd Young after replacing ex-Rep. Baron Hill as Democratic nominee on Nov. ballot
"I'm a Hoosier and a Marine, and I'm running to represent Hoosier values every day," Young said in statement

PA-SEN: League of Conservation Voters and Environmental Defense Action Fund released TV ad accusing GOP Sen. Pat Toomey of "helping big oil polluters and millionaires, not the rest of us"

Ad refers to March 2012 vote on legislation that sought to repeal tax subsidies for biggest oil and gas companies
Ad first appeared on broadcast TV today in Pittsburgh, according to Kantar Media's CMAG
Toomey opposed by Democrat Katie McGinty, former state official with background in environmental policy

FL-18: Republican Rebecca Negron released TV ad calling attention to algal blooms affecting Fla. coastal communities, blaming "Washington" for inaction and demanding completion of construction of new reservoir

Negron, county school board member, among six Republicans seeking southeastern district of Democratic Rep. Patrick Murphy, who's running for Senate

GA-03: Club for Growth Action, conservative super-PAC, released TV ad attacking Republican dentist Drew Ferguson as an "insider" who is "too liberal for Georgia"

Group backs state Sen. Mike Crane in July 26 runoff, the key election in strongly Republican district of retiring GOP Rep. Lynn Westmoreland

KS-01: ESAFund, conservative super-PAC, released TV ad attacking GOP Rep. Tim Huelskamp as "Washing-Tim;" spots criticizes his vote against 2014 farm bill and for getting removed from Agriculture Cmte

ESAFund's donors include Paul Singer, Ken Griffin, Marlene Ricketts, Linda McMahon
Huelskamp said farm bill should have "done so much better for farmers, ranchers, consumers, and for the American taxpayer"; he's vowed to get back on Ag panel in next Congress
American Medical Assn's PAC sent $5k last month to Huelskamp's primary challenger, physician Roger Marshall, per FEC filing
Huelskamp among 33 Republicans who voted against so-called doc fix measure that replaced Medicare's sustainable growth rate physician-reimbursement formula with new system

NY-19: Democratic Gov. Andrew Cuomo said he would support Democrat Zephyr Teachout in Nov. election, though he referred to backing the "Democratic nominee" and didn't mention his former opponent by name, New York Observer reports

Law professor Teachout ran against Cuomo in 2014 primary, called him "most corrupt governor in New York history"
Teachout running against Republican John Faso in central Hudson Valley district of GOP Rep. Chris Gibson, who's retiring

NY-24: GOP Rep. John Katko said his "concerns remain" about Trump while saying he's seen "perceptible change in his tone and demeanor," Syracuse Post-Standard reports

"I'll just have to see how I feel in my gut about his tone and rhetoric," Katko said when asked if he would endorse Trump before Nov. election
Freshman Katko opposed by Democrat Colleen Deacon in district that gave 57% of vote to Obama in 2012

WA-07: Democratic state Rep. Brady Piñero Walkinshaw aired TV ad featuring testimonials from voters, including woman who says Walkinshaw as gay Latino would be "Trump's worst nightmare"

Democratic state Sen. Pramila Jayapal's campaign released TV ad saying she'd "lead our fight in Congress" for equal pay for women, paid family and medical leave, expansion of Social Security benefits
Jayapal's ad also shows footage of black woman getting pushed at Trump rally, and of Trump saying there "has to be some form of punishment" for women who get abortions; Trump has reversed that position
Seattle Times editorial page supports Walkinshaw; nine candidates running in "Top 2" primary Aug. 2 for strongly Democratic Seattle-based district of retiring Democratic Rep. Jim McDermott
Before it's here, it's on the Bloomberg Terminal.
LEARN MORE