U.S. Deploys Forces in South Sudan Capital as Ex-Rebels Flee
by
Forty personnel to provide protection, secure U.S. facilities

Former insurgents call for UN to separate warring parties
The U.S. deployed troops in South Sudan's capital to secure their embassy and help evacuate non-essential personnel after days of violence claimed at least 272 lives and forced fighters loyal to the nation's deputy leader to flee the city.
The deployment comprises "40 service members who will help in securing U.S. personnel and facilities in Juba," Chuck Prichard, a spokesman for U.S. Africa Command, said in an e-mailed response to questions on Wednesday.
Clashes erupted in Juba on July 7 between President Salva Kiir and Vice President Riek Machar's forces and continued sporadically until Monday. South Sudan, which marked its fifth anniversary of independence from Sudan on Saturday, has been ruled by a transitional government since April, after Kiir and ex-rebel leader Machar agreed to work together to end a civil war that began in December 2013 and left tens of thousands of people dead. Oil production, in a country with sub-Saharan Africa's third-biggest crude reserves, has fallen by at least a third to as little as 120,000 barrels per day.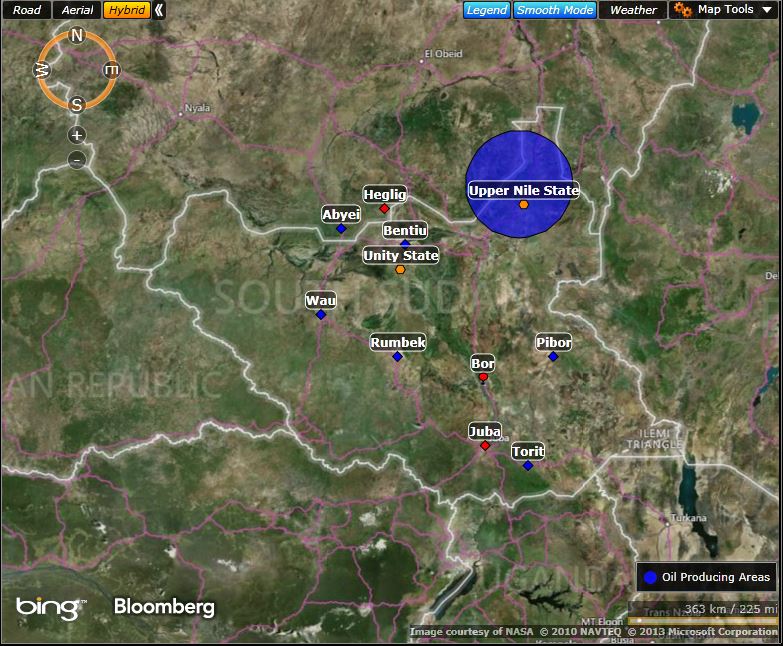 Calm continued in Juba on Wednesday, following Kiir and Machar ordering their forces to implement a cease-fire late Monday. At least 36,000 people, mainly women and children, have been displaced by the weekend's fighting and sought shelter at United Nations sites and other locations in the city, according to the UN.
Troops Dislodged
Kiir's army said late Monday that Machar's troops had been dislodged from bases throughout Juba. A spokesman for the vice president's forces, James Gatdet Dak, on Wednesday urged the UN mission to separate the two parties after attacks by Kiir's troops.
"We'd prefer the current peacekeepers and if there's any additional force it will be added to the current United Nations post," Dak said.
The Intergovernmental Authority on Development, an East African bloc that mediated the peace agreement, on Monday said it's demanding a revision of the UN mission's mandate to allow for the establishment of an intervention force and increase the number of troops from the region.
South Sudanese Ambassador to Kenya Chol Ajongo said on Tuesday that his government opposes any deployment of regional forces to help stabilize the country.
Before it's here, it's on the Bloomberg Terminal.
LEARN MORE