Cars & Bikes
Jeweler David Yurman Is Selling a $48,000 Handmade Motorcycle
This one-of-a-kind custom piece from builder Walt Siegl also inspired a capsule collection of carbon-fiber jewelry and keychains.
By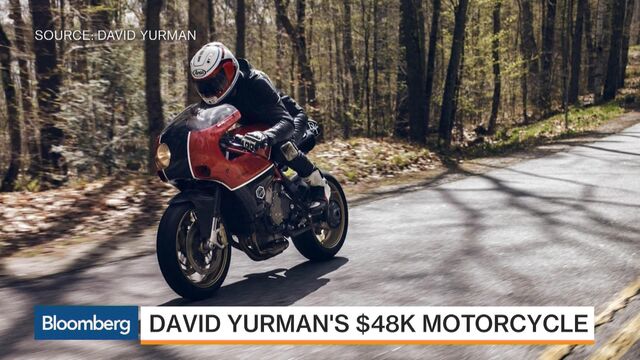 A massive, high-speed motorcycle isn't exactly the first thing you think of when you think of David Yurman, the high-end jeweler known for his twisted-cable bracelets and dark pearl earrings.
But when you think of Evan Yurman—David's son and the head of their brand's men's line—it should be.

He just commissioned a bike called the David Yurman Forged Carbon Motorcycle by MV Agusta and is releasing it for sale concurrent with his new men's jewelry collection. You can buy the bike for $48,000; it's going to be offered at a special sale with Worth Motorcycle Company later this year. 

Evan is a longtime motorcycle obsessive who has been collecting dirt bikes, vintage BMWs, and old Harley-Davidsons for decades. (Catch up with him in the Hamptons or at his place in Upstate New York, and you're as likely to find him on a motorbike as in a car).
He knew exactly whom he wanted to go to for a one-of-a-kind statement bike that would inspire while demonstrating the unique material properties of a small capsule collection of rings, keychains, bracelets, tags and cufflinks: iconic builder Walt Siegl. Siegl is the Austrian-born craftsman and pro racer famous for hand-making custom motorbikes at his remote shop in New Hampshire. 
Walt produced a thing of beauty: a three-cylinder, 800cc, four-stroke, 12-valve, and liquid-cooled engine that gets 160 horsepower, an immense amount of power for a machine that weighs just 305 pounds. It can hit more than 180 miles per hour.

The guy I spoke with who had ridden it said that pushing up the highway was a life-changing experience.
Siegl made the bike in custom Kevlar, with a forged carbon triple tree (the apparatus at front) and rear and front fender, plus high-end Brembo radial disc brakes. Everything about it is custom-made; the unique molds alone cost $15,000 to make.
In fact, Yurman said, if the bike were priced appropriately, it would cost closer to $250,000.
"There's no profit involved in this at all, whatsoever," he said. "Walt is a great bike modifier and sculptor, and I was inspired to call him up and collaborate."
Until it's sold, Yurman keeps it at his private design studio. 
"I just wanted to own it, that's all," Yurman said the other day, laughing. Actually, he explained, it worked perfectly as a practical application of his latest obsession: forged carbon.

"If you just take forged carbon and put it in jewelry, that is only a one-way conversation. But if you put it in the form of a motorcycle, something you can use, it becomes a dialogue. So we got to utilize it in a different way that may be considered esoteric to some, but for the people who utilize it as a means to their industry, like Walt, we give them the opportunity to think way outside the box."
If you can't be the one to get your hands on the bike, you can always buy one of the new rings. They're made with forged carbon, too. ($350-$3,250 at David Yurman retailers worldwide.)
Before it's here, it's on the Bloomberg Terminal.
LEARN MORE