Teva Climbs as CEO Sees Robust Growth After Allergan Deal
by
CEO Vigodman says generic-drug purchase to close 'at any time'

Adjusted earnings, sales estimates exceed analysts forecasts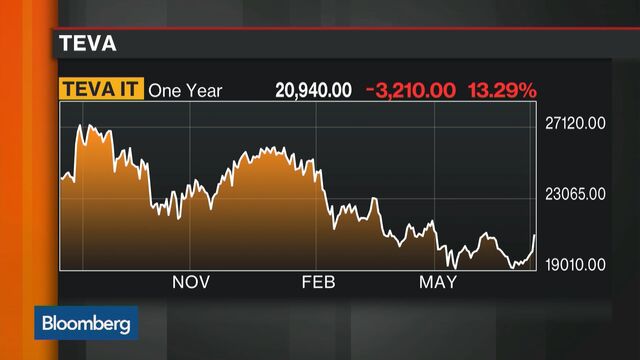 Teva Pharmaceutical Industries Ltd. surged the most in a year after Israel's biggest company presented investors with a rosy picture of the drugmaker's future, starting with the imminent approval of its $40.5 billion deal with Allergan Plc.
Chief Executive Officer Erez Vigodman, speaking on a conference call Wednesday, said he knew of no reason why the purchase of Allergan's generic business would be delayed, assuaging investors who had been anxious about the timing of the closing. The U.S. Federal Trade Commission approval is the last step in the process and could come at any time, he said.
The comments were "reassuring that the strategy and outlook for generics is intact," Andrew Finkelstein, an analyst at Susquehanna Financial Group in New York, wrote in a note to clients. Finkelstein has a positive rating on the stock.
Teva will regain its spot as the world's largest maker of generic medicines once the Allergan deal is complete. Profit may reach $8.1 billion by 2019, Vigodman said. Sales could steadily rise to as much as $27.8 billion by that time, about 40 percent more than last year, he said. 
The Petach Tikva-based company's American depositary receipts advanced as much as 7.6 percent, the most since July 2015. It rose to $54.76 at 12:35 p.m. in New York.
Accelerated Sale
Citing favorable market conditions, Vigodman said the company is considering accelerating its multi-billion dollar bond sale to finance the acquisition. Teva will need to borrow about $4 billion less than expected, Chief Financial Officer Eyal Desheh said, because of higher-than-expected divestitures and increased working capital.
Investors had fretted about the delays to the transaction, including the most recent one in June.
There is still some room for uncertainty. Teva's forecasts don't account for the possibility of generic competition to its thrice-weekly version of Copaxone, an injection to treat multiple sclerosis patients. Teva estimates $4 billion in Copaxone sales this year and about $200 million to $300 million in annual declines until 2019.
Patent Ruling
A U.S. Patent and Trademark Office ruling on whether to invalidate a Teva patent on Copaxone that expires in 2030 is expected before Sept. 1. Mylan NV's challenge of the patent was accepted when filed last year, signaling that Mylan has a reasonable chance of winning at least one of its claims.
Teva also provided preliminary estimates for its second-quarter performance. The company expects earnings excluding some items were between $1.19 and $1.22 a share last quarter, up from an earlier forecast of $1.16 to $1.20. Revenue may have been as high as $5 billion, the company said in a statement.
Judging from the headline numbers released today, profit and sales beat forecasts in the second quarter. Analysts expected Teva to report earnings per share of $1.17, according to 21 estimates compiled by Bloomberg. And Teva said revenue was between $4.9 billion and $5 billion, exceeding the $4.8 billion analysts had anticipated.
Before it's here, it's on the Bloomberg Terminal.
LEARN MORE