Starbucks Baristas Want Control Over Their Hours. There's an App for That
Shyft lets hourly employees trade shifts, effectively wresting control of scheduling from restaurants and retailers.
By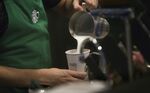 Next week Starbucks barista Foster Cooley will be traveling. Normally he'd have to ask or text co-workers to fill in for him at his Chandler, Arizona, cafe and hope someone can take his shifts. Instead he's using an app to post his hours to baristas in the entire region.
Called Shyft, the app emerged from Seattle Techstars, an accelerator program that backs promising startups. With little marketing and no cooperation from major retailers, Shyft says it has signed up 12,000 workers at U.S. Starbucks stores, more than 7,500 at McDonald's and 3,500-plus at Old Navy. In the past three months, workers have exchanged the equivalent of 26,000 hours on the app, according to Shyft Chief Executive Officer Brett Patrontasch. If the app catches on more widely, it's sure to be unpopular in the corporate suite because it essentially wrests away control over scheduling. 
"This gives shift workers the power to treat themselves like an economic unit and not be boxed in," says Heather Redman, a Seattle technology executive who was the first to sign on as an investor. "It is a little controversial and disruptive to have your workers have a whole ecosystem that you didn't put in, but that's the world we live in."

Founded last year, Shyft has attracted big-name investors, including former Seattle Seahawks player Russell Okung and ex-Mariner Edgar Martinez. Along with Redman, Madrona Venture Group and entrepreneur T.A. McCann, they agreed to pony up $1.5 million in new seed capital, the company said Wednesday. Patrontasch declined to discuss the company's business model.

Shift workers often face challenging work schedules—erratic hours, shifts in stores further from home, not enough work to meet their financial needs. Many companies use sophisticated scheduling software that has been criticized for spreading a worker's hours over too many days. Last year New York State's Attorney General sent a letter to more than a dozen retailers asking about one particular shift-scheduling practice. A Seattle City Council member held a forum this week to discuss issues with shift scheduling, including too few hours and unpredictable schedules; the council and mayor are considering imposing rules. This month, a Starbucks barista gathered almost 13,000 signatures for a petition complaining that the company has been understaffing stores to save money and hurting workers who need more hours. 
Besides letting employees more easily offload shifts they can't make, Shyft helps those who need more hours to qualify for healthcare, Starbucks' college degree program or even just make the rent. The company also wants to enable geographic flexibility: A worker who wants to visit his grandmother out of state, say, could pick up shifts during the trip. 
Some companies require a manager to approve shift swaps so Shyft gives bosses a quick way to say yay or nay on a change. Workers trying to offload a tough shift—say Christmas or a significant other's birthday—can offer a monetary enticement. Some 10 percent of shifts on the system include such tips, Patrontasch says. 

Some managers are posting entire schedules on Shyft and letting workers chose the shifts that work best for them or lining up extra hands. Cooley's manager encouraged him to download it and when Patrontasch demonstrated the app to Bloomberg in May, a shift manager at a New York Starbucks had posted looking for baristas. 
Starbucks says it has no knowledge of anyone at the company using Shyft. The company, which said this week it will boost wages by at least 5 percent, makes one million manual schedule changes per week and said it empowers managers to allow those. "We would rather our partners work with their store managers to make those changes," said spokewoman Linda Mills. "We're not seeing a huge demand for that external technology." Partner is Starbucks-speak for baristas and other workers. A spokeswoman for Gap, Old Navy's parent company, declined to comment, and McDonald's didn't immediately respond to requests for comment.
Redman was among those who persuaded Patrontasch to market the app to workers rather than companies, a far more crowded market. Such rivals as ShiftMessenger, which has worked with Gap, and Shiftboard, based in Seattle like Shyft, mostly sell their products to corporate HQs. 
"Workers are complaining, 'I never know when I am working and my hours get cut,'" Redman says. "We've decided that, even if we are breaking some eggs, the way to do it is by targeting the employee side."
Troy Lendman, who started The Barista Life blog while serving as a shift supervisor at a Starbucks in Santa Clarita, California, says he often wouldn't know who had switched with whom until an hour or two into a shift. When employees wanted more hours, they'd  put a post-it note on the paper schedule saying when they were available. Trading shifts between stores required phone calls back and forth. Now Lendman's blog, where baristas can share experiences and commiserate about making the latest complicated Frappuccino recipe, is featured on Shyft, and his family and friends who still work at Starbucks use the app for trading. 
Before founding Shyft in Toronto and moving to Seattle, Patrontasch started student painting company Scholars At Your Service. While running the company, he realized there was no easy way for the 300 workers to communicate, commiserate and change shifts. Messaging apps like Slack require workers to have a corporate email account, which shift workers are usually not assigned. To design the Shyft app, he and other employees spent three months walking around malls showing their concept to workers and getting feedback. 
Right now, only people looking to ditch or trade a shift can post on Shyft. Next the company plans to add a function that lets workers post requests for more hours. The ultimate aim is to boost the number of successful shift trades from about 37 percent now to as high as 80 percent within a year. 
Madrona's S. Somasegar, who led the investment, has spoken to Seattle-area companies and technology providers intrigued by Shyft's approach and says it  "has the potential to do some goodness for the world." Still, he acknowledges "pushback from employers is definitely a concern. Somebody shutting it down is a risk."