Record Stock-Market Rally Powered by Companies Analysts Despise
by and
Analysts are least bullish on rallying defensive companies

Utilities shares only group trading above price targets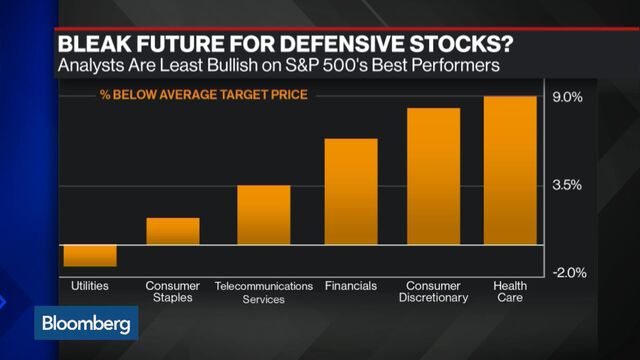 The rally that just thrust the S&P 500 Index above a record that stood for 13 months is being fueled by companies Wall Street likes least.
Utilities, consumer-staples shares and phone stocks are surging as much as four times faster in 2016 than the S&P 500 as a whole. With valuations approaching records, the groups rank among the most-hated stocks with analysts. Utilities and consumer staples are the only two industry groups in the benchmark trading at or above their average 12-month target price, data compiled by Bloomberg show.

It's another example of the circuitous route stocks have taken to scale the wall of worry and power to their first all-time high since 2015. The rush into equities whose prospects are least-tied to the economic cycle has swollen valuations in industries that are normally sought out for safety. While fueling an 18 percent rebound in American shares since February, it's an anomaly that some worry will leave investors with few options should markets turn.
"The moment the news changes, everyone will try to lock in their profits and get out," Mark Kepner, a managing director and equity trader at Themis Trading LLC in Chatham, New Jersey, said by phone. "If we get something where the Fed says it will raise rates more than the market expects and if we get positive news from Europe, these stocks could be hit."
Utility and phone providers have jumped more than 19 percent this year to lead the S&P 500, and consumer-staples shares have contributed most to the index's gains. The three groups slipped on Tuesday as the benchmark for American equity rose to a record for a second day.
It may be the start of a turnaround for investors who flocked to safety investments in the face of everything from Brexit to record-low bond yields amid a mixed outlook on economic growth around the world. U.S. economic policy uncertainty is at a five-year high, according to data complied by Bloomberg, while 10-year U.S. Treasury yields touched all-time lows last week, driving demand for stocks that offer higher dividends.
The International Monetary Fund cut its forecast for 2016 U.S. growth on June 22, urging the Federal Reserve to lean toward overshooting its inflation target in considering whether the economy can handle higher interest rates. Expansion in gross domestic product will be 2.2 percent this year, the group said, less than its projection of 2.4 percent in April.
Companies in the S&P 500 are on pace for their fifth-straight quarterly decline in earnings, the longest streak since 2009.
"This pattern of overall slowing growth has benefited these safer areas," said Kevin Caron, a Florham Park, New Jersey-based market strategist and portfolio manager who helps oversee $180 billion at Stifel Nicolaus & Co. "They've had a good run with valuations higher than they used to be. Though I wouldn't recommend investors go running into these sectors at this point, there is something to be said about slow and steady wins the race."
Utilities will fall an average 1.4 percent over the next year, according to target-price estimates of Wall Street analysts surveyed by Bloomberg. Using the same metric, consumer-staples stocks will gain just 1.6 percent, the least among the groups. By comparison, the other eight primary groups in the S&P 500 are expected to gain between 3.1 percent and 9 percent.
Of all the sectors in the S&P 500, analysts like defensive ones the least. Ranked on a scale from one to five, where a score of five is equivalent to an analyst ranking of buy and one is sell, utility shares score 3.5 and staples score 3.6. That's a lower rating than 70 percent of companies in the index, according to data compiled by Bloomberg. The grade for utilities has fallen as the sector rallied, and is now the lowest since at least 2008.

To Minneapolis-based Sundial Capital Research Inc. President Jason Goepfert, the surge in those shares is nothing to fret over. Among 20 instances in which the S&P 500 reached a new high following a decline in stocks as long as the one that just ended, defensive shares led the gains 14 times, according to Sundial. The gauge kept rising 12 months later in all but one of those instances.
"There doesn't seem to be any merit to the idea that the current defensive-led rally is necessarily a bad sign for stocks' future prospects," he wrote. "Other times that defensive groups led to a new high, the S&P was just as likely to rally as when more aggressive sectors led."
While a climb led by defensive companies isn't by itself doomed, the degree to which they've beaten sectors like financial companies is unusual, he wrote in a report Monday.
Utilities stocks are trading at the highest price relative to earnings in almost 16 years. In December 2000 utilities touched a valuation of 20.1 times trailing 12 month profit, the only time in history the sector was above 20. It reached 19.9 last week. Consumer-staples stocks trade at a ratio of 23.3, above the 10-year average of 17.6.
"There has been a lot of uncertainty this year regarding the amounts of gains and losses, so that drives investors toward these more defensive stocks and sectors," said Joe Bell, a Cincinnati-based senior equity analyst at Schaeffer's Investment Research Inc. "When you see those target prices differ that much from a sector's growth this far into the year it's concerning."
Before it's here, it's on the Bloomberg Terminal.
LEARN MORE